Twitter has launched a new feature that wants to give you more control over who can tag you in their posts. The goal is to prevent spammers or people with whom you have not related to a long time tag you without consulting or also detach yourself from those common trolls on Twitter or from the wrong tags that want to refer to another user with a name similar to yours and tag you.
According to SocialMediaToday this new function responds to the objective of the social network to limit negative experiences on Twitter avoiding unwanted attention. This novelty joins another one presented in May of last year 2020 to fight against trolls (so common in the social network and probably its biggest scourge from the beginning) and that allows the user to restrict who can respond to their tweets.
HOW TO DOWNLOAD VIDEOS from Instagram, Facebook, Twitter or TikTok on your MOBILE
The first option: change the settings when you get a lot of mentions
As explained Dominic Camozzi, Twitter privacy designer, the platform is working on different ways to control mentions.
The first one announced consists of sending you notifications when you have been mentioned several times around the same publication so you can check those tweets and you can change the settings so they stop mentioning you on that matter.
Getting a little TOO much attention? I want to make it easier to address that in 3 ways.

1️⃣ Get notified when you're getting a lot of mentions
2️⃣ Review those Tweets
3️⃣ Change settings to stop the situation from escalating further pic.twitter.com/CL43INsMky

- Dominic Camozzi (@_dcrc_) June 14, 2021
As you can see in this sequence, the new process would offer a new option of "Remove mentions to your profile in this conversation"in a drop-down menu of the tweet, so that you can dissociate yourself from how that conversation is evolving or the topic at hand.
Of course, your name would be detached from the conversation, although it would continue to be, without being able to change it, in the text of the original tweet.
It should be remembered that for a long time you can do this when you are tagged in images on the platform, through the option "Remove tag from photo". The novelty announced today gives users the ability to distance themselves from any direct association with a discussion in a tweet where it is tagged. This could be good to avoid spammers, and also trolls you don't want to bother with. in blocking but with those who do not want this relationship.

It can also be useful if a tweet leads to a discussion that takes a turn on a controversial or even offensive topic and you prefer to keep your distance.
New settings when someone you don't follow mentions you
Besides this, Twitter also adds a new notification for when someone you don't follow mentions you. You can go to that publication, expand it and choose that you want to remove the mention.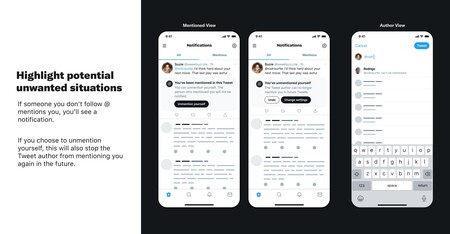 If you do that the author of that particular tweet will not be able to mention you againunless you update the settings again.
Add new controls to avoid mentions for a while
Another novelty that Dominic Camozzi, privacy designer in the social network has announced is add new controls on who you allow to be mentioned with the following options: All "," People you follow "or" Custom. "In addition, you must choose if you want this to be the case for a day, 3 days or 7.