120 pull requests, 1,000 commits of more than 40 contributors and more than a million visits registers the web covid-vacuna.app created by Miguel Angel Duran, a computer developer known as midudev who during his spare time is dedicating himself to developing and maintaining this site that reports on the status of the vaccination process against COVID-19 in Spain.
The project was born a few months ago, when vaccination was a novelty and we were not so aware of how it was going, trying to answer questions about the evolution of the process. And it was born, from the beginning, being a free source project open to the contributions of anyone who wanted to help out.
120 pull requests, 1000 commits from more than 40 contributors and more than one million visits registered by the web covid-vacuna.app
How to request the FNMT DIGITAL CERTIFICATE of NATURAL PERSON
The creation of a website on vaccination against COVID-19 live on Twitch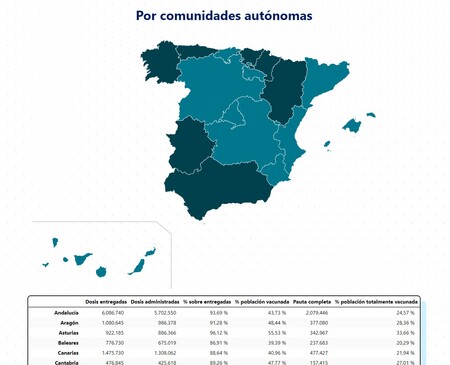 Durán went further in his purpose and decided, through his Twitch channel, retransmit the development while listening to the suggestions of those who would like to accompany you during the code chopping. A channel, by the way, where he usually teaches programming.
The result is a website that, at a glance, shows the most important data: the number of doses distributed, the doses administered and the people with the full regimen.
The websites are automatically updated every time new data on the vaccination process are published
The site goes further and indicates the number of doses of each vaccine that have been received, percentages in relation to the previous data, the estimates on the date on which 50, 75 and 100% of the vaccinated population will be reached, as well as the situation of the vaccination by autonomous communities, by age groups and the evolution of doses delivered compared to those administered.
All these data, of course, come from official data: from the Spanish vaccination strategy and from the official vaccination information site. And, the most interesting, information is updated automatically, like the Twitter account and channel we talked about recently, every time the health authorities publish new data about the process.