To say that we expected a Windows 11 would be to be untrue. At the time, Microsoft said Windows 10 would be the last Windows, something that we did not understand as that the system was going to disappear in a period of five years or almost a decade, but that, from now on, Microsoft would update the operating system as a service, as Apple and Google gradually do with iOS and Android, and as from Redmond they were doing until now.
In fact, We expected that by the end of 2021, the new version would still be Windows 10, with a visual redesign, but Windows 10. However, everything changed when Microsoft announced an event for June 24 giving many hints that what we would see would be Windows 11. Now, given the great leak that there has been a build preliminary system, we practically take it for granted. And, given how much the new system can still change to a new final version, this is what we would like to see.
Windows 11, a system from which we expect many changes
For those who read us normally, it will not be difficult to know that there are two great pillars of Windows that we would like to see improved, the visual consistency and the policy of updates, both in form and in substance. But there is much more.
This is what Gabriela González would like to see
Gabriela wants Microsoft to focus on improve the updates that have given so many headaches in versions such as October 2018 Update, and remember another of the keywords when talking about Windows, due to its absence: consistency.



For me Windows 10 has been a great version of the system, but at the same time it has revealed a few problems that it would be great to see Microsoft address with Windows 11. The first and that I am surely would appreciate everyone is a system and a cycle more consistent and stable updates. It would be good to end those mini semi-annual updates that break things here and there, and perhaps return to a model more of annual service packs or even longer, just optimizing and improving the quality of life of the system without fragmenting Windows as much as it has happened with the 10.





And the other thing is consistency. Windows 11 needs to have a more defined identity, less live experimentation on users' computers, and more commitment to a design language and an ecosystem of applications. What Microsoft has come and gone with Metro / Modern / Fluent is visual nonsense. And with the applications it is similar: that if the Store apps, that if the PWA, that if the classic win32 packages, each one in its own way without precise direction. Everything should be unified to see if the Microsoft Store begins to serve any real purpose after so many years. And I would like them to stop changing my icons on one side if they are going to leave the old ones on the other.



This is what Marcos Merino would like to see
Marcos wishes see better window management and that they improve tools focused on security such as Windows Sandbox.



"With regard to the interface, I would not only like to see a clear commitment to independent virtual desktops (and a widget on the taskbar to access them), but above all to provide management with Window windows of 'grid-tiling' functions (here an example of what I mean, as it goes far beyond Windows Snap and FancyZones), facilitating the grid arrangement of open windows.





Regarding security, it would be great if Windows Sandbox could work at the application level (and not only by duplicating a desktop, as a virtual machine), since it would allow not only to execute individual applications in a totally safe way, but also to execute different parallel applications instances of the same application with different configurations, in the style of Qubes OS.



This is what Toni Castillo would like to see
Toni wants deep changes with the system that make you forget the problems that Windows 10 has dragged from its beginnings, despite being a good operating system:



What I would like to see in Windows 11 is, to some extent, a significant break from the above. Windows 10 has probably been one of the best systems that Microsoft has illuminated, a turning point, but it has its drawbacks and limitations. He is too continuous in many respects and with him they did not dare to say "up to here" and reinvent themselves without looking back.





From what we've seen so far, Windows 11 looks set to follow a similar path, but I want to trust that it is the product of unfinished and preliminary versions. It is for this reason that I repeat myself: I would love to see that, finally, from Redmond they hit the table and take a good leap forward, landing on their feet, with everything in place, and showing off the work done.



This is what Bárbara Bécares would like to see
Barbara wants the system to be intuitive and that higher resource consumption does not result in slower computers compared to Windows 10. You also want to forget another of Windows 10's burdens, troublesome updates.



"What I always appreciate most about a software is that it is intuitive. I was one of those who complained about Windows 8 removing its start button. Why complicate things that can be very simple and that we use all the time? a very clear and simple design.





Also, I hope that even if I add new features, it will be lightweight and can be used with any PC without slowing down my computer. You have to think of all users. In those who have the latest generation equipment and in those who use them simpler.





Storage wise I'm pretty messy so I'd love it to come up with new ideas and features to help us sort files with some automated system.





And above all, I hope the updates arrive without errors. Many of the times that it is updated, I spend a few days with certain errors that make the use of my PC (many hours a day), very tired ".



This is what Yúbal Fernández would like to see
From developers, developers, developers to consistency, consistency and consistency and a lot of stability, without forgetting part of the system such as the store:



"Windows 10 is a beautiful operating system, but it is still far from the aesthetic modernity that some GNU / Linux distros offer, or from having the consistency that macOS has. I would like Windows 11 to go that way, especially in terms of mode dark, which does not convince me in Windows 10. A beautiful Windows that is at the same level as other beautiful operating systems, seeing that the shots of Windows 11 will go to modernize the interface, is what I ask of you.





On the other hand, I just hope that they continue to polish interactions with mobiles as they have been doing so far, (perhaps a method to install Android apps as they have done with GNU / Linux?) And that they give a little push to the app store. And put to ask, that they improve and facilitate a little more the customization options. For the rest, Windows 10 seems to me the best operating system I have ever had, the most stable and secure in many aspects, it has never given me problems, so I hope that "under the hood" they do not touch too much and do not destabilize what it works now".



This is what Antonio Sabán would like to see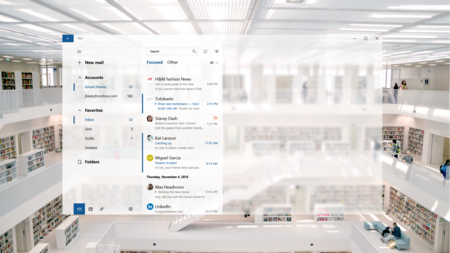 A server wants Windows to finally have a visually defined identitySay goodbye to the high age of some tools and continue to receive utilities such as new screenshots and clipboard history.



After many years in macOS, Windows 10 is a system that I have been able to enjoy a lot, and to which I really do not put great problems or feel like I am in something very inferior, as I did with Windows XP in its middle stage versus the Mac OS X of the time. Even so, the fact of being between two systems as different as Apple and Microsoft, makes me want to see Microsoft culminate some of its modern redesigns, and that Windows 10 is the first to achieve it.





Modern / Metro was a breath of fresh air that did not lead to anything very solid and widely adopted, and in a way it was left half. The style was softened a lot in Windows 10, waiting for something newer to arrive, Fluent. Thanks to Fluent I think that the system did not need a redesign, but that this style be extended correctly to all parts of it, but it was not like that, and we know that the Microsoft design team had very good ideas. I also think that the system has to renew many old tools, but especially some such as Disk Administrator, which has very good functionality today, but with Windows 2000 aesthetics.





Finally, I would like to see that small functions continue to arrive to the system that make our day to day much better. In Windows 7 there were many of those such as Aero Snap, and in Windows 10 it has been improved for example, the process of taking screenshots (which can still be improved to make any capture can throw an attachment automatically) or the history of clipboard, which today is the best of the system compared to Apple's proposal.



This is what Javier Pastor would like to see
Javier agrees with Gabriela, wants consistency to dismiss the old Windows XP styles.



I would ask Windows 11 for something fundamental above all: consistency. That we continue to see Windows XP windows and icons mixed with the new design languages ​​squeaks, as does the fact that the Control Panel continues to coexist with the Configuration tool. It is necessary to unify the visual conception of the entire operating system.





I would also say that Microsoft has a good opportunity with the application store, which should pose differently both in its organization and catalog (quite poor) and in its visual interface, which must also feel different to show that it is.