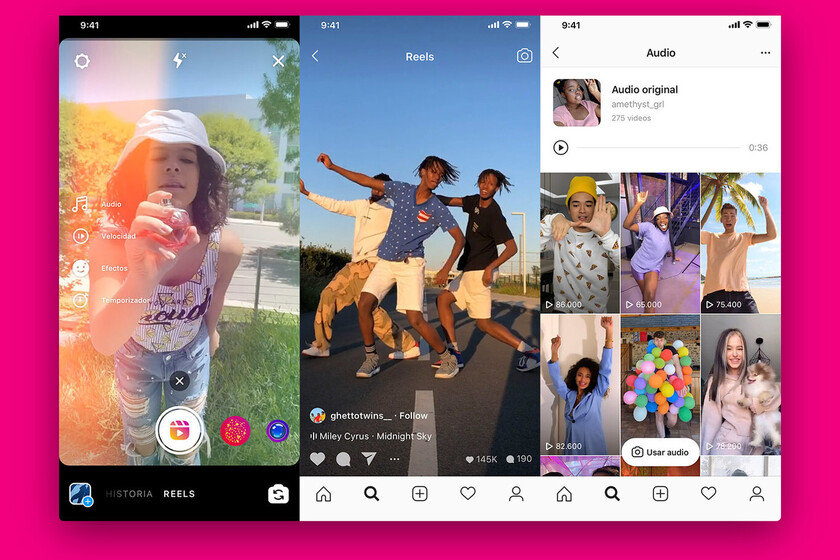 Instagram Reels, the rival platform of TikTok, is going to start showing ads to users. Facebook, the company that owns Instagram, announced today that it will launch advertisements on its short video platform around the world. Ads will last up to 30 seconds, like the Reels themselves, and a vertical format, similar to the ads found on Instagram Stories.
Like the contents of Reels, new ads will loop and people will be able to "like" them, comment and save them, as with any Instagram post.
A novelty that was already in test format
The company had already tested the Reels ads in some markets earlier this year, including India, Brazil, Germany and Australia, and more recently expanded those tests to Canada, France, the United Kingdom and the United States. Announcements They will appear both in the Reels tab itself, and in the Reels that are in the Explore section or in the Feed.
The company has not specified how often we will see these ads while we pass the reels. The social network has said that you are monitoring the feeling that this advertising causes in users.
For now, Instagram does not offer advertisers any creation tools or templates that can help you get started with Reels Ads. Instead, Instagram assumes that advertisers already know how to create them.
The launch of the Instagram Reels ads comes on the heels of news about the rise in prices of TikTok ads. Bloomberg published a few days ago that TikTok now ask for more than 1.4 million dollars for an ad on the home page of your platform in the United States. And that this figure, as of the third quarter of this year, will rise to 1.8 million dollars. On a holiday the price of an advertisement will be $ 2 million.