During its WWDC 2021 developer conference, Apple officially announced the next version of its desktop operating system: macOS 12 Monterey, the first version that has begun the transition to Apple Silicon when computers with an M1 chip have been on the market for some time.
Although Monterey does not represent the same drastic and enormous change in design and functionality that the arrival of Big Sur was, it does not mean that it will not receive so many interesting news, and perhaps one of the most striking is what they have called Universal Control.
What's new in macOS 12
Universal Control is a new feature in macOS Monterey that will allow us to control multiple Apple devices with a single mouse and keyboard.
With Universal Control, Apple aspires to enhance the continuity between macOS and the rest of its systems across multiple devices. During the keynote, they showed how we can use the touchpad to control an iPad and a Mac at the same time.
Universal Control allows you to drag and drop files across multiple Macbooks using the same touchpad
We can continue on the tablet what we are doing on the computer by simply moving the mouse pointer to the next screen, without the need for additional cables or connections. Universal Control works with more than one device at the same timeThey can be an iMac, a Macbook, and an iPad controlled with the same keyboard or mouse.
In addition to these novelties, M1 Macs can be used as AirPlay devices. Also the tool Shortcuts will be coming to macOS and it can be used from Finder, the menu bar, Spotlight, Siri and many more applications.
Apple has said that Shortcuts is the future of automation on Mac, but for now, Automator will continue to be supported and will live alongside the new app.
Safari It has also received improvements, with a cleaner taskbar, more compact tabs, and new groups of tabs that you can keep handy in a sidebar (much like Microsoft Edge collections).
Safari will allow share an entire group of tabs automatically via email, for example. Tab groups sync to iPad automatically.
HOW TO CONFIGURE an IPHONE, IPAD or IMAC MACBOOK WELL
Compatible Devices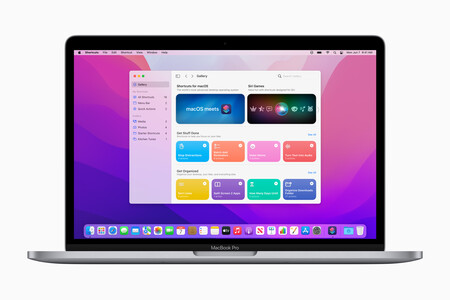 iMac: all models as of 2015.


iMac Pro - All models as of 2017.


MacBook Air: All models from early 2015.


MacBook Pro: All models from early 2015.


Mac Pro - All models as of Late 2013.


Mac mini - All models as of Late 2014.


MacBook: all models as of early 2016.


Release date
macOS Monterey will be available starting today in beta for developers, and soon in public beta during the month of July. The final version for all users will arrive in the fall.