With a Windows 11 that is expected to arrive very soon, in the event that takes place this June 24, ("one of the most important updates to Windows of the last decade", according to Satya Nadella's verbatim words) the current version, Windows 10, is in the spotlight.
One of the main reasons why some users tend to avoid updating their PC is that it "slows it down." Especially with Windows 10's Software as a Service approach, where you get so-called "feature updates" (feature updates) twice a year. In addition to the urban legend, it is necessary to see if it is true. It has been said that one of the great enemies of this OS is Windows Update.
To put this issue on the table, in the ntdotdev blog they have analyzed how much Windows 10 performance has changed over time, comparing 10 experience items operating system.
The aspects analyzed are the following:



Installation time





Boot / Restart Time





Opening Win32 applications





Opening UWP apps





Windows Search





GDI (Graphics Device Interface) performance





GDI stress test





Windows Defender Quick Scan





I / O performance





Switched off



For this study, the blog author (who does not specify his name in "About") used Hyper-V as hypervisor of choice, with 4GB RAM, 4 cores, and a 32GB fixed disk for each version.
Analysis results: installation, startup, and shutdown time
The installation process is the user's first foray into the operating system experience. In the latest versions of Windows (from Vista and later), Microsoft has made great strides to make Windows startup faster. For each build, this study used an installation image that uses the .WIM format.
Now the conclusions: during the first 3 public releases of Windows 10 the result is quite consistent. However, after the Creators Update, we can see an increase in installation time by about 3 minutes.
After the Windows 10 October 2018 Update (build 17763), the installation takes 18 minutes and 40 seconds. After RS5, it seems that the installation process is a bit faster, but it didn't go back to previous levels. All in all, the Windows 10 installation process has slowed down a bit, but not dramatically.
What happens when we talk about starting Windows? Boot time increased quite a bit since Windows 10 Anniversary Update (with a notable decrease in Creators Update). If we compare Windows 10 TH1 with Windows 10 20H1, we have an increase of about 2.6 times.
But we have, as you can see from the graph, that the boot times got slower with the following versions. "This is probably caused for the new security features implemented in the new versions of Windows, as well as the new services introduced ", explains the analyst.
Regarding the time it takes Windows 10 to shut down, the result is very significant. Whereas the first of the analyzed versions took 10 seconds in the team of the developer who has carried out this study, now it takes 11 seconds. Of course, in between we can find that other versions took 6, 7 or 9 seconds.
Win32 and UWP applications
The applications that the author of the analysis chose were all Windows applications from the inbox: Windows Explorer, winver, Notepad, Internet Explorer, Paint, Registry Editor, msconfig, msinfo32, Wordpad, Control Panel and Administrator of chores.
And the conclusion is striking: a "quite significant" slowdown starting with Windows 10 1809, being twice as slow as the previous build. From the fastest to the slowest version there is a time difference of 3 times. This leads to the conclusion that Win32 programs are likely to open slower in newer Windows builds.
Another issue is the Universal Windows Platform or UWP whose job is to facilitate application development. In this analysis, the applications that were evaluated are: Microsoft Edge, Settings, Calculator, Calendar, Maps, Movies and TV, Groove Music, People, Store and Voice Recorder.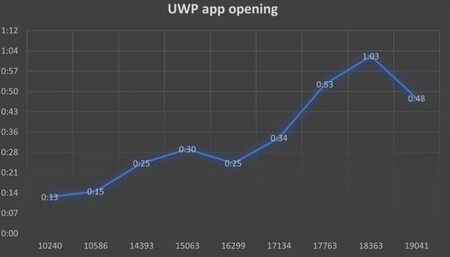 In this case, the slowdown of Windows 10 over time is more than remarkable. It got worse from version 1809 and its peak was with 19H1. The conclusion is that the opening of UWP apps did get "dramatically slower with subsequent feature updates".
Features that didn't slow down or improve your times
The Windows search engine has experienced great leaps in terms of its times. For the purpose of this experiment, Windows Search was used to find all instances of msinfo32 on drive C. Unlike other references studied, the results vary greatly and there is no regression.
Right now the process is a few seconds slower than the first version analyzed. But in between there were slower versions and also much faster, without following a line.
Regarding the GDI could be seen that many new versions arrived slower. But this problem has been fixed and remains at similar levels from its inception.
A positive surprise from this study comes with Windows Defender which, the author believes, "has become an increasingly integrated part of Windows", and each feature update adds new enhancements. Seeing its evolution, Windows Defender is much faster compared to the initial versions of Windows 10. Of course, the latest updated version is much slower than the previous ones.
Via | Mixx IO