The European Commission has just proposed a framework for the creation of the so-called European digital identity which will be awarded to all citizens, residents and companies in the EU, as was already expected to happen.
This identity translates into a "European digital identity portfolio" that citizens can use to prove their identity and share electronic documents, through "a button on the phone". This national digital ID will be recognized throughout the European Union.
Digital wallets will be able to link National digital identities with other certificates such as driving licenses, qualifications, bank account, etc. Member States may supply these portfolios both to public administrations and to private entities.
Very large platforms (companies and public bodies) will be obliged to accept the use of European digital identity wallets at the user's request, for example, to prove their age.
Each person can choose if they want to use this portfolio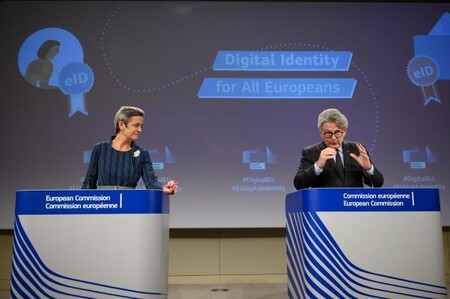 Yes indeed, the person is the one who decides what use they want to make of this digital wallet. According to Margrethe Vestager, Executive Vice President for A Europe Adapted to the Digital Age, "We can decide how much information of ours we want to share, with whom and for what".
The objective is that identity can be used for procedures such as renting an apartment or opening a bank account outside of our country, check-in at an airport, file an income tax return, enroll in a university or rent a vehicle in any EU country.
Thierry Breton, Commissioner for the Internal Market, says that the objective is to facilitate relations between citizens and administrations of different countries and also with companies. Since, through this digital identity, a company or entity can better know who they are interacting with.
In the framework specified today for this new digital identity portfolio, there are several issues such as:



It will be available to anyone who wants to use it; Any citizen, resident or company of the Union who wishes may use it.




Will allow for widespread use since European digital identity portfolios will be widely used, either to identify users or to certify certain personal attributes when accessing public and private digital services throughout the Union.




European digital identity wallets will allow each citizen to choose which aspects of their identity, data and certificates they share with third parties and keep abreast of what is done with them.




The Commission invites Member States to create a common set of tools between now and September 2022 and to start the necessary preparations immediately.




In parallel with the legislative process, the Commission will work with Member States and the private sector in the technical aspects of the European digital identity.



It should be remembered that Member States are not obliged to develop a national digital ID or to make it interoperable with those of other Member States, which gives rise to large discrepancies between countries. The proposal will seek to address these deficiencies.
Examples of how it can be used
As specified by the European Commission, the European Digital Identity can be used in many cases, for example: access to public services, such as requesting a birth or medical certificate or communicating a change of address; opening a bank account; filing a tax return; application for a place at a university, in any Member State; storage of a prescription that can be used anywhere in Europe; age show; use of tourist services.
For example, if you want to request a loan or a mortgage, what this European Digital Identity is looking for is that you only have to select from your "digital wallet" the necessary documents that are stored to respond to the bank's request. Then ** verifiable digital documents are created and submitted for verification to the bank **, which can proceed with the application process.
Even, for the courier service you want to include a certified electronic delivery service that can protect against the risk of loss, theft, damage or alteration when submitting documentation. For a citizen, you will be able to ship with greater confidence. And a company or public postal entity can reduce the time and costs of exchanging documents.