Do you have a problem with your Samsung mobile and you don't know how to solve it? We gather the biggest drawbacks that can occur in a Samsung Galaxy and different ways to fix them. If you follow our steps, your mobile will surely work again as it should.
As soon as you buy a phone, problems usually do not occur, they usually work correctly (otherwise it is best to use the guarantee). With the use, after months installing applications and loading it almost daily is when the disadvantages appear; That can range from annoyances with certain specific apps to the fact that the phone can hardly be used. If we restrict brands to Samsung Galaxy we run into certain generic problems that sooner or later end up suffering. Let's see what the usual ones are and how to fix them.
My mobile uses too much battery
This is a problem that Samsung mobiles often suffer, not in vain they usually bring a large number of applications and services running in the background as standard. Not that there are magic bullets, but there are some actions that can be taken to maximize the duration of each charge.
Let's see all the ways to extend the autonomy of your smartphone:


Go to the settings of your Samsung Galaxy and enter 'Applications'.


Review all the apps on the list and enter those that you do not use. Try uninstalling them and, if you can't, disable them.


Go to 'Maintenance and battery' and enter 'Battery'.


Go to 'Background usage limits' and go to 'Inactive apps'.


Click on the top '+' and add all the applications you want to stop when you are not using them. The ideal is to incorporate all of them except for those that receive notifications; like WhatsApp, Gmail, Facebook and others.


Go back to the battery options and click on 'More battery settings'. Make sure 'Adaptive Battery' is selected.




Go back to the settings of your Samsung Galaxy and go to 'Advanced functions'. Deactivate all the ones that you are not going to use.


Go to 'Movements and gestures', under 'Advanced functions', and deactivate all the options that you do not use.


Turn off the Always on Display and Bixby Voice features if you have them turned on. Or, at least, assess if they are really useful to you.


With the previous steps, the battery of your Samsung Galaxy should last longer. In case you need some extra hour you can activate the saving modes from the battery settings. You can even select how One UI reduces performance, Samsung provides great control at that point.
My Samsung Galaxy is getting too hot
It usually happens when there is an application that is running in the background without the system closing it automatically. Abnormal temperatures, feeling the phone hot even if it has not been used... Let's see how to fix it.


Go to the settings of your mobile and enter 'Maintenance and battery' then 'Battery'.


Click on 'Use since the last full charge' and look at the apps that have consumed the most. The one causing problems will be at the top of the table; with high background usage.


Click on the app and look at the battery icon that appears below. Squeeze there.




Select 'Put it to sleep' if you want One UI to close it when you're not using it (recommended) or 'Put it to always sleep' if you're not going to use it anymore. Of course, you must bear in mind that all inactive apps will stop sending notifications when you do not use them.


Additionally, it is advisable to restart the phone: often a simple restart ends with a specific excess of temperature.


In the event that your Samsung Galaxy always reports excess temperature, our recommendation is that uninstall the apps that always consume excessively. Otherwise, try to disable them.
I want to free up space on my Samsung Galaxy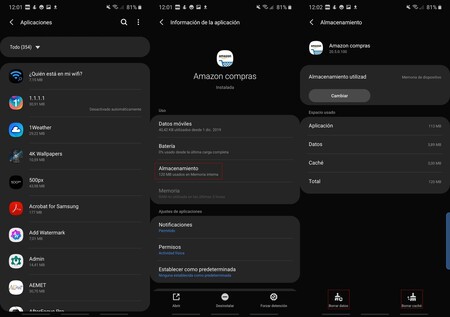 It does not fail: it is enough that you want to install an application to make it impossible because it does not have enough space. You may even see an icon on the taskbar; preventing you from even updating apps. A bummer, wow.
There are several ways to free up storage. Here are the most effective ones with your Samsung Galaxy.


Go to the settings of your Samsung Galaxy and go to 'Maintenance and battery'.


Go into 'Storage' and let One UI analyze the phone. Then go down and run tasks: uninstall the apps you don't use; remove duplicate files; go through the big files and delete the ones you don't need.


WhatsApp is a space eater. Therefore, go to its settings, enter 'Storage and data' and deactivate the automatic download of all files.




Continuing with WhatsApp, go to the Samsung gallery and check that the WhatsApp album does not contain excessive photos and videos. If this is the case, save the content you really want and then completely delete the folder.


Take a new look at the apps you don't want and kill those you don't use frequently, especially games.


If your Samsung Galaxy has space for SD, take the opportunity to put one and then move the apps you can to the card.


My Samsung Galaxy is slow
That there are some slowdowns is normal even in the highest category mobiles. But, if yours has slowed down excessively and you don't know why (apps take time to open, screen freezes...), there is probably something causing an abnormal slowdown. Let's see what can be done.


The first recommendation is that you restart your Samsung Galaxy. Slowdowns are often fixed without further action.


If the problem persists, go to the phone's settings, go to 'Maintenance and battery', go to 'Battery' and click on 'Use since the last full charge'. A list will appear with the apps that have consumed the most in the last hours: surely there are some that are consuming resources.


Once the app (or apps) causing the slowdown is located, go back to the Samsung Galaxy settings, go to 'Applications' and find those apps.


Go into each one and force the stop so they stop working. The system is most likely to recover from the slowdown.


If One UI persists in reopening them it tries to uninstall them. In the case that they are system, and as long as they are not essential, try deactivating them. One UI should not let you do it with the applications necessary for the mobile to work.


Applications are constantly closing
There are times when it is impossible to open an application: right after opening it it closes with the message that it stops working. Even worse: your mobile may constantly get a warning that a certain app stops working even if you haven't used it.
It doesn't happen often. But when it happens, you can take the following steps to fix the problem.


Enter your Android settings and go to 'Applications'.


Look for apps that are constantly closing, access them and go to the 'Storage' menu.


Clear the app's cache and force it to close.


If it continues to close on its own, go back into your storage and click on 'Delete data'. Do this only with applications that save data in the cloud, such as those from Google or Samsung. If you delete the data of the applications that only save them on the mobile, you will lose the information.


Wasn't it fixed? Go to Google Play and check if they have an update. If not, check the storage menu again within the application settings.




If you installed the app that closes, you try to uninstall it and download it again. If it is a system click on the three menu items (top left, within the settings of each app) and click on 'Uninstall updates'.


Restart your phone, you should no longer have problems.


I am not receiving notifications from apps
Perhaps your mobile does not notify you of new WhatsApp or Telegram messages, notifications from Facebook or other applications may not jump, it is quite common. If it happens to you, the most common is that One UI restrict background processes, it may also be that the notification settings are wrong. Let's see the possible solutions.


Go to the settings of your Samsung Galaxy and enter 'Applications'.


Check those apps that do not show notifications: enter each one, go to the 'Battery' menu and make sure the option 'Allow background activity'.


While looking app by app, check the 'Notifications' menu as well. Make sure they have them active.


Display the quick settings of your mobile and check that you have not activated the do not disturb mode.


My Samsung Galaxy uses too much mobile data
This problem is due to the anomalous consumption of data of some application, the mobile itself is not going to exceed consumption. Therefore, you have to locate the application that exceeds your rate and eliminate it; or, at a minimum, restrict your use of mobile data.


Go to the settings of your Samsung Galaxy and enter 'Connections'.


Go to 'Data usage'.


Check the list of apps to find the ones that have consumed too much data.


Enter each of these apps and uncheck the 'Allow use of data in the background'. A) Yes They will only be able to consume your rate when you actively use them.


Also, and as long as you don't use those applications, you can uninstall them.


Keep in mind that if you disable the use of data in the background for applications such as WhatsApp, Facebook and the like, You will also be left without notifications and without receiving messages that could be important.
I have problems with the WiFi
The WiFi is constantly disconnected, you cannot connect to your router, the Samsung Galaxy does not locate your home networks or even the mobile insists on using mobile data when it should connect to WiFi. There are several problems related to this connection, let's see what you can do to solve them.


Go to the settings of your Samsung Galaxy and enter 'Connections'.


Go to WiFi and enter your network options (connect to it before).


Click on 'Forget' to delete the records from your mobile.


Go back, find your WiFi, and re-enter the password.


In the event that you continue to have problems with the network, try resetting the connection settings. You must bear in mind that you will lose all saved WiFi networks as well as your tariff settings and saved Bluetooth devices. You will have to register each one again.


If you have taken the risk, go back to the settings of your Samsung Galaxy and scroll down to 'General Administration'.


Click on 'Reset'.


Click on 'Reset network settings' and accept the deletion.


The above problems are the most common in Samsung mobiles with One UI. What do you suffer from any that is not listed in the list? Comment it and we will look for solutions.