This morning Vivaldi browser developers have released version 4.0 of the same, with which they seek to "provide users with a real alternative to big technology". An alternative that arrives, without a doubt, loaded with news that we wanted to try in person.
The first time we started this new version, Vivaldi gives us a choice between three configurations: a more minimalist one, barely devoid of functionalities; an intermediate or 'classic' and, finally, the 'Fully Loaded' modality, which integrates into the browser interface all the tools available to Vivaldi, including the mail client, the calendar and the feed reader.
Since the Mozilla Foundation decided to leave behind the model launched by Netscape Communicator, proceeding to divide its Mozilla suite into several differentiated programs (Firefox, Thunderbird and Sunbird), Internet users had not had a true 'all in one' at our fingertips for browsing on-line. Now Vivaldi wants to provide it to us. Let's see how it goes.
We review the news
The first big news is its integrated translation system, not very different from what we can find in Edge or Chrome. Although instead of being based on Google Translate technology, it is an implementation of the Lingvanex extension (also available for Chrome and other compatible browsers).
The experience with translations of this new Vivaldi functionality has been good, not finding great differences with respect to the one provided by its Google equivalent; so fine in this area:
Unfortunately, I have not been able to test the Vivaldi email client (the final version of the experimental one that they already presented a few months ago): all the email accounts that I have tried to introduce have collided head-on with constant "Error when logging in" messages, even a newly created account on the Vivaldi.net server .
Yes, I have been able to start the new feed reader without problems, which you can see below. Clean and comfortable design when viewing the content, but I have to say that it is also functionally confusing: the browser interprets each feed as an email account, and each article as an email, in such a way that it gives us the option to reply to it or to mark it as spam.
Indeed: the mail client does not work when we want to read emails, but it does when we want to read feeds (In fact, in the icon on the bottom bar we can see unread articles as unread emails). Intriguing.
The next step is to test the new calendar feature. The thing does not start very well either, since, when we start it for the first time and it gives us the option to create an account or enter the data of an existing one and I choose Vivaldi.net, it forces me to enter the start data of session, even though a few minutes before I had already done it to activate the synchronization between teams.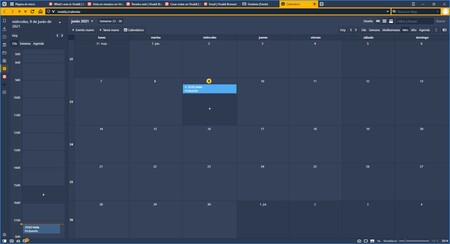 That said, once the data is entered, it shows us a functional calendar that is quite useful to have in the 'sidebar' from our browser.
Vivaldi remains a promising project, which is clearly and proudly committed to making a difference to the competition, and the launch of this new version is a positive step. But the malfunctions (easily and quickly solvable, no doubt) and its counterintuitive usability (this already, something less) leave a bittersweet taste after testing it.