Google I / O is mainly an event for developers in which, in addition to learning about the latest news that will eventually reach apps like Google Photos, better tools for developers are announced. A good example of this is the new google tv emulator, Now available.
Whether you are a user who wants to take a look at Google TV ahead of time or if you are a developer creating applications compatible with TV, Android Studio now has a full emulator with Google TV fully functional. We tell you how it works.
You will need Android Studio Arctic Fox
One of the novelties that Google has announced during Google I / O in 2021 is the beta version of Android Studio, which receives a name change: it is known as Android Studio Artic Fox. The numbering also changes, to match that of the IntelliJ IDE on which it is based.
It is precisely this beta of Android Studio that includes the compatibility for the Google TV emulator, which does not appear for the moment in the official version. You should, therefore, download Android Studio Artic Fox (2020.3.1), from its official website. The beta version of Android Studio is installed separately from the official one, that is, it does not replace it.
Google TV on your PC
From there, the process is the same as when creating any virtual image for an emulator in Android Studio. After entering AVD Manager (on the menu Tools), you must choose the TV device category and one of the two available profiles.
The novelty is in the next step, where you will find the image of Android 11 with Google TV, also available in its "standard" version, with Android TV. This Android TV image includes Google services and therefore you can easily install applications. Until relatively recently, Android Studio's Android TV emulators didn't include Google Play.
After downloading the image, you can finally open the Android TV emulator with Google TV on your PC. The emulator has exactly the same look and functions that you would find on a TV with Google TV, and you can control it with both the mouse and the keyboard.
As a user, you will thus have a way of try google tv without having to experiment with your TV with Android TV. As a developer, it's a good way to make sure your apps will work perfectly on Android 11-based Google TV.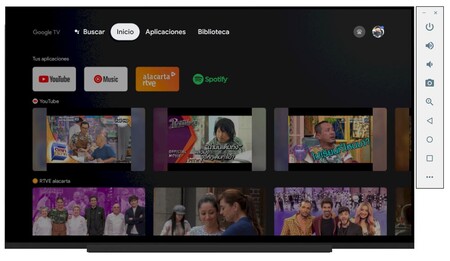 At the moment this emulator is relegated to the vAndroid Studio beta version, although it is a matter of time that it also reaches the official Android Studio version. In it, for now, the closest thing you can get is an Android TV emulator with Google Play, but without Google TV.
More information | Android Developers