If you are looking the best deals on Android phones, accessories and applications, you have come to the right place. Every week, we search for the best of the best for you, with many mobiles and accessories at outrageous prices, as well as free or discounted payment applications.
In our today we have several high-end to mid-range price, as well as mobiles with great value for money even cheaper. Take advantage of offers while they last, and the best ones are not usually active for long.
Android phones on offer


Xiaomi Mi 11 for 642 euros. We started our offer count in style with the powerful Xiaomi Mi 11. With a design full of curves, Snapdragon 888 and an ambitious triple 108 megapixel camera, you have it on Amazon for almost 150 euros less than the starting price: 642 euros .


Global Version Xiaomi Mi 11 Smartphone, 8GB + 128GB Snapdragon 888 Octa Core, 108MP + 20MP Camera, 6.81 "AMOLED Screen (Gray)



OnePlus 8 for 449 euros. The OnePlus 8 is not the latest model, but it hardly matters when you have Snapdragon 865, 90 Hz AMOLED screen, 30W fast charging and a lot of RAM. In the official OnePlus store, using the code 8TOFF50 You get a discount of 50 euros, staying at 449 euros.




Black Shark 4 for 429 euros. The Black Shark 4 went on sale a few days ago and is already on sale at Amazon. From the original 499 to 429 euros, on Amazon. It is a mobile focused on games, with Snapdragon 870, 144 Hz screen, 120W fast charge and triggers.




Oppo Reno 4 Pro 5G for 429 euros. The OPPO Reno 4 Pro 5G is a premium mid-range mobile with Snapdragon 765G. In our analysis we highlighted its good photographic performance, the brutal 65W fast charge and its screen. You have it on Amazon for 429 euros.




Samsung Galaxy A52 for 312 euros. The 4G version of the Samsung Galaxy A52 is lowered on Amazon to 312 euros, when it cost 389 euros. It stands out for having a 90 Hz AMOLED screen, 64 megapixel quad camera and 25W fast charging.






Xiaomi Mi 10T for 299 euros. If you have a budget of 299 euros, we present three options in these Bargains. First, the Xiaomi Mi 10T, a whole high-end with Snapdragon 865, 144 Hz screen and great battery that you can take in MediaMarkt at a mid-range price.




Realme X50 Pro for 299 euros. Another option for 299 euros, the Realme X50 Pro. Also with Snapdragon 865, with an AMOLED screen at 90 Hz, six lenses in total and a battery that supports 65W fast charging.




POCO F3 for 299 euros. The third proposal for 299 euros is the POCO F3, even more powerful with the Snapdragon 870. Among its advantages are the AMOLED screen at 120 Hz and the 33W fast charge. It had a very good price from the beginning, but on its official website you have it 50 euros cheaper.



POCO F3 5G - Smartphone 6 + 128GB, 6.67 "120 Hz AMOLED DotDisplay, Snapdragon 870, 48MP triple camera, 4520 mAh, Night Black (ES / PT version), includes Mi headphones



Xiaomi Redmi Note 10 for 164 euros. Already below 200 euros we have two proposals. The first of them is the Xiaomi Redmi Note 10 (4G), which stays at 164 euros on Amazon. It is a mid-range with Snapdragon 678, a large battery with fast charging and an AMOLED screen, at an entry-level price.




Samsung Galaxy A12 for 139 euros. Finally, the Samsung Galaxy A12 is an option for those who are looking for a normal mobile phone, with a good design and a very reasonable price. It has four lenses, a large battery and costs 139 euros at El Corte Inglés.



Reduced accessories


Xiaomi Mi Watch. If you had a look at the Xiaomi Mi Watch, the smartwatch with autonomy for two weeks, SpO2, GPS and AMOLED screen, you will be happy to know that its price has dropped on Amazon from the usual 129 euros to only 99.99 euros.


Xiaomi Mi Watch 1.39 "AMOLED Screen, Blood Oxygen Level Measurement, and 100+ Exercises, Black Color



Amazfit T-Rex. The Amazfit T-Rex is a resistant smartwatch whose advantages include the autonomy that can be stretched to up to 20 days. Its official price is 139 euros, but you have it at approximately half in El Corte Inglés: 74.90 euros




Samsung Galaxy Buds +. Samsung's completely wireless headphones, the Galaxy Buds + promise 11 hours of playback, noise cancellation and IPX2 resistance. They cost 109 euros a week ago and now it is for 79 euros.



Android apps and games on offer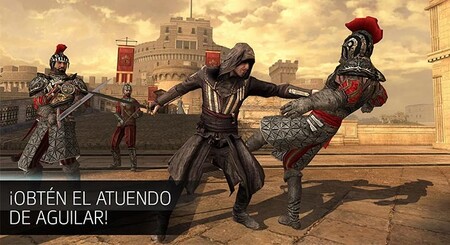 Assassin's Creed Identity 2.99 euros 1.19 euros




The last Roman people 2.19 euros 0.99 euros




Portrait Painter 3.29 euros free




Evoland 2.99 euros € 0.59




A Little Berry Forest Tale 0.79 euros free




audioPro ™ Player € ̶4̶.̶4̶9̶ 3.79 euros free




LoveNeuro: Student-Led Neuroscience App 1.19 euros free




Whispering Willows 5.49 euros 1.99 euros




Training 7 min PRO 3.29 euros free




MR RACER: Car Racing Game 2020 - Premium 3.09 euros free




Minerals Guide (+ Identifier) 0.99 euros free




Gym Pro Home Workouts (No Ad) 1.79 euros free




Alexis Pie Icon Pack: Clean and Minimalistic 1.69 euros free




Manual Camera: DSLR Professional Camera 4.49 euros free




SUI File Explorer PRO 1.69 euros free




Teslagrad 6.99 euros 0.99 euros




Gym Pro Home Workouts (No Ad) 1.79 euros free




The Curse Of Zigoris 2.69 euros free




GreenLine Icon Pack: LineX 1.99 euros € 0.59




Password manager SafeInCloud Pro 7.99 euros 4.99 euros




Siege of Dragonspear 10.99 euros 5.49 euros




Premium Trojan War: Warrior of Sparta 0.99 euros free




Million Onion Hotel 4.99 euros 1.09 euros




High Smileson 0.89 euros free




Memorize: Learn Spanish Words with Flashcards 4.99 euros free



More offers?


If you join Amazon Prime, you have a 30-day free trial (after 36 euros per year) to enjoy free fast shipping, priority accessory to offers, services such as Prime Video, Prime Music, Prime Reading and unlimited photo storage. In addition, if you are a student, becoming a Prime Student costs half and you have a 90-day trial.


Seriously, you haven't had enough of that? Do not worry, we have many more offers: you can keep up to date with the main ones that we have discovered in the bargain hunting of Xataka, Xataka Móvil, Xataka Foto, Vida Extra, Espinof and Applesfera, as well as with our colleagues from Compradicción and also in this Flipboard magazine. You can see all the bargains they publish on Twitter and Facebook, and even subscribe to their ads via Telegram.
We remind you that if you know or you find any wild offer that appears suddenly during your moments of free browsing, you have the space of the comments, as always, so that expand these great bargains that the internet gives us weekly. And if you want more, we will be back next Friday. Good weekend to everyone!


Note: some of the links published here are from affiliates. Despite this, none of the articles mentioned have been proposed by either the brands or the stores, their introduction being a unique decision of the team of editors.