A few days ago we were talking to you about the new times opening up for Audacity, the most popular open source PC audio editing tool on the market, after its acquisition by the MUSE Group.
Precisely there have been previous controversies of these new owners (specialized in the field of music software) which have put the user community on guard. Well that and what one of your first decisions was to add telemetry functions (monitoring of use by the user).
They are already beginning to be heard voices asking to launch a 'fork' (bifurcation) of the code, which this time remains in the hands of the community. In the meantime, if you want to know if there are alternatives to the ubiquitous Audacity, we bring you a few for you to value:
WavePad: an improved Audacity (if you're not using it for commercial purposes)
If the use that you are going to give it is personal, we summarize it quickly: WavePad comes to be an improved version of Audacity. If you are going to use it for commercial purposes, however, it will cost you between $ 60 and $ 99, compared to $ 0 that Audacity has been costing you.
Not available for Linux (yes for Windows and Mac OS X), but it makes up for it with mobile versions for iOS and Android.
The WavePad interface, clear and simple, hides many more options than meets the eye. Along with the more standard options, it offers others such as:



A complete audio effect collection (reverb, echo, etc).




Native support for VST plugins.




Compatibility with almost all popular audio formats.




Spectral analysis functions comparable to those of Audacity.




Text-to-speech synthesis and voice alteration tools.



Another remarkable element of this software is that it is installed together with a tool that allows you to edit the audio of the videos without needing to separate the audio track first.
Oceanaudio: fast and uncomplicated
Oceanaudio is probably another great alternative to Audacity for most users: a lightweight, stable, free and cross-platform audio editor (It is available for both Windows and Linux and Mac OS X).
It is also very easy to use ... maybe so easy that it can't stay so versatile like the 'original': do you want to record an interview for your podcast? Use it; Do you need it for a music production project? Well Oceanaudio does not measure up.
One point in its favor, of course, is its advanced memory management system, which makes it easy to edit large files for a long time without running the risk of being corrupted. That, and what aesthetically it is much more 'apparent' than Audacity.
Wavosaur: the lightest on the list
The 64-bit version of Wavosaur occupies 1.3 Mb, which makes it, possibly the lightest audio editor on the market. Despite its size, it has - in addition to the standard tools - some advanced features like mute removal, VST plugins and ASIO drivers.
One of its great attractions is that it facilitates simultaneous work with several projects, by allowing them to be managed within the same tab.
In addition, its creators also offer on the same website a ringtone generator tool from audio files, Generatosaur.
The negative aspect is that it does not stand out in the field of multiplatform: It is only executable (no need to install it) on Windows systems.
Frinika: Much more than an editor

[embed]https://www.youtube.com/watch?v=7-HjFczAAvI[/embed]

The popularity of Audacity in Linux environments has caused not many alternatives to it have been created for this operating system. One, of course, is the aforementioned Oceanaudio. But if you can't settle for something simpler than Audacity, you're going to have to bet on something more complex, no middle ground.
And that's where Frinika comes in, more than an audio editor it's a fully-fledged audio workstation, with support for VST, music notation, sequencer, an Amiga-style tracker, etc.
Of course, like Audacity, Frinika is also 'open source' and multiplatform, being available for Windows, Linux and Mac OS X.
AV Audio Editor: only edit, no record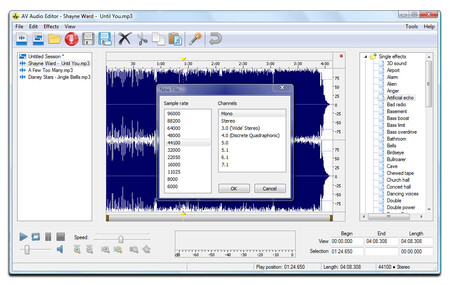 Like Wavosaur, AV Audio Editor is only available for Windows systems, makes it easy to work on multiple projects at the same time and has advanced tools audio editing. Like Oceanaudio, it is easy to use, with a very clear interface.
Unlike everyone else, AV Audio Editor does not include an audio recording functionAlthough it has a sister program (AV Audio and Sound Recorder), which not only offers this function but goes much further, allowing you to record from several microphones and audio sources at the same time.
BounceCast: for content creators with $ 99 in your pocket
BounceCast is a tool specifically focused on podcasters and youtubers who seek to edit the audio of their content. Its interface, although modern, is extremely simple, so forget about most of the usual functions audio editing.
Its great attraction is the automated tools to improve audio clarity and eliminate clutter. of it (buzzes, clicks, etc) ... the negative part is that these tools are not accessible in the free version of the software, and you will have to spend 99 dollars a year for the Premium plan. Available for Windows and Mac OS X.