The next big update that our Android 12 devices will receive will not only focus on its radical redesign but will also focus in improving our privacy.
With each new version of Android we see how Google makes its operating system safe and transparent with our data, protecting our most personal and sensitive information. With Android 12 announce seven privacy enhancements:
Camera and microphone indicators
With Android 12, access to the camera and microphone will be more transparent. The status bar will show us new ones indicators that will inform us in real time when an application is accessing the camera and microphone of our device.
These indicators will arrive from Android 12 Beta 2, and the objective is that the developers review the use they make of the camera and microphone of their applications, so that they only access these sensors when the user clicks on a function that requires their access , not before.
Privacy Dashboard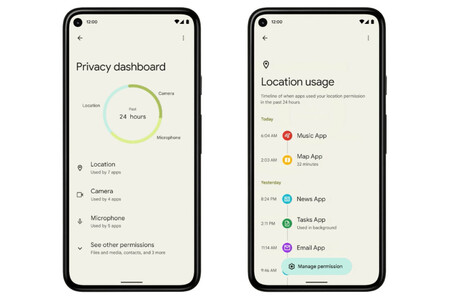 In Android 12 Beta 2 will also arrive the new Privacy Dashboard, a new section in the system settings that will allow us to see a timeline quickly and easily the accesses of the last 24 hours to the location, the microphone and the camera. So we can see which applications and when they have accessed the most sensitive sensors of our device.
Clipboard read notification
Android 12 follow in the footsteps of iOS 14 and Google's operating system will also sneak up on apps that paste clipboard content. A 'Toast' message will notify us when an application is reading our clipboard to check what we have copied. This novelty will also arrive in Beta 2.
Approximate location
Android 12 gives us more control with the new location permission. Until now it always shared our precise location with all applications, but with the new version you can now choose in its new permission to share one approximate location. With this new permission, the applications will only be able to know in which neighborhood / city we are.
Switches to disable camera and microphone
In Beta 2, new switches are coming to the quick setting bar. If for years we can temporarily disable the location of our device, in Android 12 we can also disable camera and microphone on the device so that no app can access it at that time.
Nearby devices permission
Android 12 also debuts a new permit which will ask us if we want an application to be able to search, connect and position nearby devices. This new permission comes so that complementary applications of watches, bracelets or headphones no longer have to use the location permission that was the one that integrated the search for nearby Bluetooth devices. Now we will have the Location permission for the GPS and the Nearby Devices permission for the Bluetooth.
Application hibernation
Finally, Android 12 will release the application hibernation, a new feature that will revoke permissions, force detection and reclaim the use of storage, memory and other resources of those applications that we have not used for a long time.
Via | Google