Although it had been in operation for a long time, it was not until last summer, with half the planet suffering different mobility restrictions and confinements, when ClubHouse became a real heavyweight in live audio. All this without being present on Android, only with its app for the Apple ecosystem.
Since then, the social network of audio rooms has been gaining traction and its competitors have been presenting modifications to their current services, or even direct alternatives such as Facebook Hotline, to catch up. The last step is again starring Facebook, which modify Instagram live broadcasts to allow video disconnection and turn them into voice rooms, something that was already in the testing phase.
Audio without video to be able to attend without requiring so much attention
Live video broadcasts have been active on Instagram for a long time, known as 'Live Rooms' allow us to interact with our followers through video and we can even add other participants to the call, thus having conversations that all our followers can listen to at the moment, or later if we wish to store them.
We can now broadcast live on Instagram by disconnecting the video
Facebook gives one more twist to the 'Live Rooms' of Instagram and incorporates the possibility of disconnecting the video from these rooms, turning them into audio-only rooms. To do it we just have to press the camera button on the right side of the room live to disconnect it and we will make it 'audio only'. And as an addition, we can invite three other users to join the broadcast with us.
Thus, the 'Live Rooms' of Instagram can become audio rooms with four users broadcasting live while the rest attend the meeting. And if you were wondering if you can do something with that audio to, for example, turn it into a podcast, the answer is yes. Facebook also enables the recording of the audio from these live audio rooms, so later we can export it and edit it to our liking.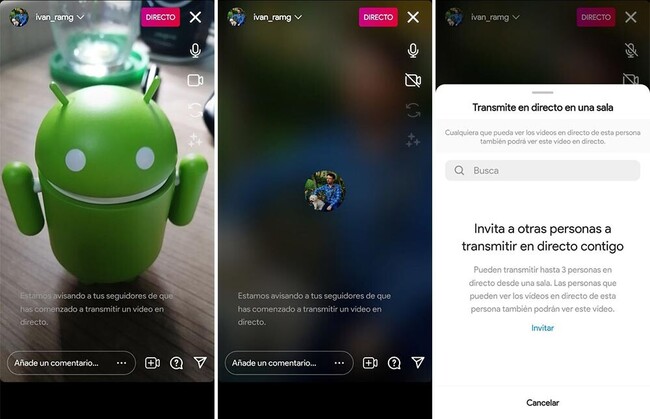 The audio rooms on Instagram seem to have already been massively released for all users of the network, even anticipating the changes proposed by Facebook for its own social network in the same direction. So that, It seems that you can already broadcast live audio for your followers and organize talks, live concerts or whatever you can think of.
Via | Engadget