A question that arises very frequently among Windows 10 users is how to log in without a password, that is, turning on the computer and having it go directly to the desktop, without the need for further intervention by the user.
Microsoft still does not provide a simple way to achieve this, but even so it is possible to achieve it by accessing hidden options of the system. We just have to press the shortcut Windows + R, write the command netplwiz and press Enter. We can also do it as we see in the screenshot below, by typing "netplwiz" directly in the Windows 10 search.
Then a window like this will appear, in which you must uncheck the box "Users must enter their name and password to use the computer", and then press To accept. The team will ask us, as a security measure, to enter our current password to confirm our identity. We will only have to click on "OK" again.
Finally, it only remains to restart the computer, and that's it. Windows 10 will no longer ask us for a password to log in when turning on the PC.
However, Windows will continue to ask for the password if the computer comes out of a sleep state. To avoid this, just go to "Setting", "Email and accounts" and within "Login Options" check the option "Never" in the section "Require login".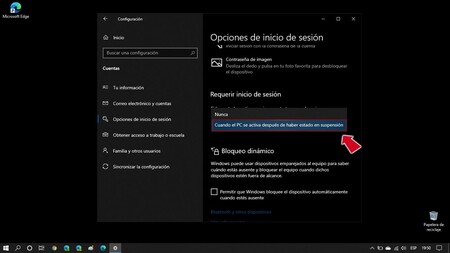 Switch to a local account
And even so, if our Windows account is linked to a Microsoft account we will not be allowed to completely remove the use of password (and that password will always be the same as the Microsoft account), and therefore, this will be requested every time we lock the computer using the WIN + L keys.
In order to use a totally password-free account, we must make it a local account, which can be done by going to Settings> Accounts> Your account> Sign in with a local account instead.
Once the transformation to a local account is completed, you must return to Settings> Accounts> Login Options, click on the "Change" button, enter our current password, and when asked for the new password, we must leave all spaces blank.
Having done the latter, we will make sure that Windows never asks us for a password to log in, not even after locking the computer.
It goes without saying that by not requiring a password we run the risk that anyone can use our equipment and access our data, even for malicious purposes, so think twice before disabling the use of passwords to log in.