Google has been running its Local Guides program for a long time, in which it tries to users provide information about the places they visit, at the same time that they earn points for this collaboration. Most often, after visiting a site, you get a notification asking you to review it. Or that, directly, we search the site and do the review to help and to earn points.
Nevertheless, there are faster and easier ways to earn points. It won't take us more than a few seconds and Google Maps, which will have all the information about where we've been, will make things pretty easy for us.
Get points quickly on Google Maps
Since the redesign of the Google maps app, we have more accessible options to add content to the network of places we have visited. In the lower bar we are going to click on 'Contribute', section in which we will see the options we need for this tutorial.
It is not necessary to make a review to earn points, we can upload photos, fill in the names of dishes, answer questions about the premises, etc.
Here we will see our contributions, but also a button that indicates 'other ways to contribute', so click on it. Within this menu, Google Maps will indicate us the places where we have been and to which we can contribute, although it does not have to be through a review.


We can add photos (if we have them on the mobile, it will detect them and we can upload them without even selecting them)


Add dishes from restaurants we've been to


Add a 0 to 5 star rating without writing a review


Check if the site data is correct (hours, if it is closed or not, etc.)


Answer simple questions (yes, no, I don't know, etc.)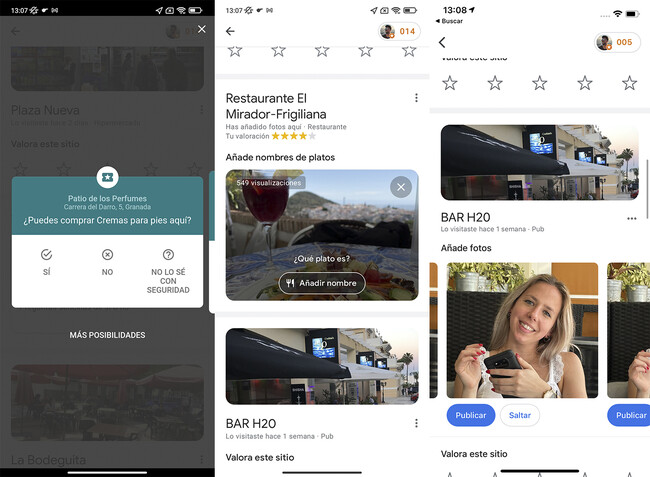 The points that we will obtain will be less than when we do a full review, but this method is somewhat simpler and faster, since Google Maps is giving us practically everything done.
It's a good way to quickly level up in the Google Local Guide, a program through which we can access the benefits of Google Maps and even be invited to private Google events if we reach high ranks.