One of the main novelties at the interface level with MIUI 12 is the new control center. It is quite an unknown function which is hidden in the Xiaomi interface and which completely changes the Android shortcuts panel. We are going to show you how you can activate it on your phone.
Also, if you had this function and it has suddenly disappeared, we are going to show you how you can get it back, since there is an application that allows us to make the ROM have this function active again.

Xiaomi's iOS-style control center
Xiaomi has traced the control center of the iPhone to include it within MIUI 12. In Android, natively, we have a shortcut bar that just below has the different notifications. In the iPhone, if we slide from the top to the right we have the control center with shortcuts and, if we do it from the left side, the notification panel appears.
In MIUI 12 it is exactly the same, since in addition to being "inspired" by the operation of this control center, the interface is traced to that of iOS. To activate this function you just have to follow these steps.


Open the settings of your Xiaomi mobile


Click on 'Notifications and Control Center'


Scroll down to 'Control Center Style' and press


Activate the new control center


When activating the new control center, the change at the interface level will be permanent (until you decide to change it to the previous one). You will have a new notification bar and a control center with direct access to WiFi, data, screen recording and more.
What to do if the Control Center does not appear
We have two possibilities if the control center does not appear: try to reactivate it manually or install an app. Xiaomi is disabling this function in some terminals, as we can read in the Xiaomi community itself and as some users of the Redmi Note families have reported to us.
The advantage is that has not disappeared as such, but is hidden. All you have to do to reactivate it is download the SetEdit application and change the parameter "usecontrolpanel ". If you don't see this function, just edit the value from '1' to '0'. If it works for you, don't touch anything.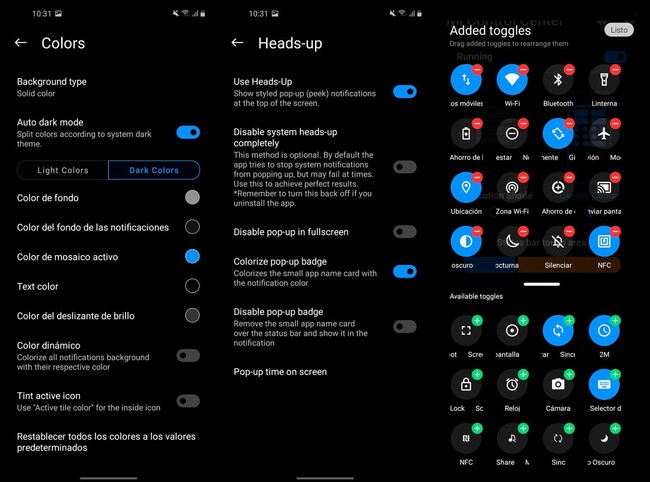 In case you do not dare to touch the parameter (although it is simple, it does not involve risks and does not need root), in the Play Store there is an app that perfectly imitates this control center. Of course, its main notification is that you have to invoke it from the notification bar since in this case it does not divide the system settings.
My Control Center: Notifications and Quick Actions