We have known for a long time that Google is working on including a game bar, although it had not yet appeared in any of the previous versions for developers. The game mode is already in Android 12 Beta.
The first beta for Android 12 end users is here and with it we can try your gaming mode for the first time, which is quite hidden. It is still in development, but at least we can get an idea of ​​what will await us when it is finished.
Android 12 game menu
Google continues to prepare the menu of tools for games and, although doesn't seem to be quite ready yetAt least now we can see its appearance and the different tools that are already included.
It is foreseeable that in the final version of Android 12 it will be easier to access the game menu, but in this first beta its access is tremendously hidden or, rather, the unofficial way to open it. To open the game menu you must go to the Android settings, enter the section of Notifications - Do not disturb Y Schedules.
Among the different "schedules" that are available is the game mode, also called Game mode. Tapping on the gear icon to its right opens the game menu settings.
In this first beta for Android 12 users, the game menu has four tool buttons and two additional options, although the number could increase in the future. Top buttons open floating buttons that are superimposed on the screen or, more specifically, the game you are using at the time.
With the floating buttons you can take screenshots, start a video recording, show the frames per second the game is running at or activate do not disturb mode. When you activate the button in the settings, floating buttons are added. The recording function uses Android's built-in screen recorder.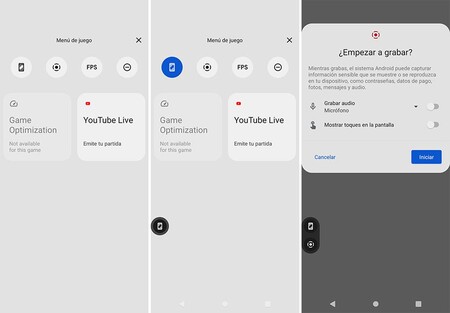 Apart from these floating buttons, two other options are included. The first one is the game optimization, which presumably will seek to improve game performance by prioritizing system resources. The second allows you to broadcast your games directly on YouTube.
Via | 9to5Google