If you're reading this, you probably use Gmail and a lot of people you know do, too. And yet not everyone knows every trick of the app or aware of every new feature that pops up from time to time.
At least a few of its 1.5 billion users are likely to find these tips helpful, things you can do with Gmail or that Gmail can do for you to get more out of it, and that perhaps you did not know.
Free up space in Gmail quickly
If you've been using Gmail for years and years and don't pay for any storage plan, the 15GB may have started to fall short. A simple way to free up space is obviously by deleting old emails, but the most important thing is to delete the heaviest emails, and the key is knowing how to find them.
If you do a special search using the "size" command followed by the value in bytes, kilobytes or megabytes, you can more easily find emails with large attachments. For example, you can search larger: 25M or use this link to search for emails larger than 25 MB. Or you can, use size: 5000000 to search for emails with attachments larger than 5 MB.
Send images by dragging and dropping
But, adding as a file instead of as an image inserted into the mail. These are distinguished by appearing as attachments with an extension, rather than with the graphic image expanded.
To add images to Gmail as a file by dragging, you just have to drop the file on the tool buttons area, where are the style options, attach, Drive, etc. That is, instead of the box in which Gmail indicates "Leave the files here", if we drag there, it is inserted as an expanded image.
Search tabs
This is a new function, it began to arrive last February to make our lives easier. The "search chips" or search chips, are tags that appear below search results and above the mailing list.
For example, if you type someone's name in the search, tabs will appear to refine the results with different suggestions, whether they are emails with attachments, or from a particular date, with calendar invitations or chats. A click there can take you exactly what you are looking for in a few seconds.
Make video calls on Google Meet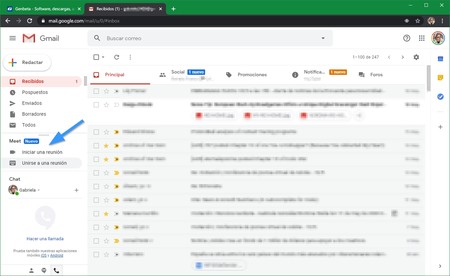 If you want to start a video call on Google Meet, you can do it directly from Gmail, a service that has long offered group calls of up to 100 participants for free.
So you basically just have to open your Gmail to join or create a meeting. Look in the left sidebar and just above the Chat, you will now see a section that says "Meet" with two buttons: the first allows you to start a meeting, and the second to join an existing one.
Attach emails to other emails
Since the end of 2019 it is possible to attach emails to other emails. If it sounds a bit confusing to you, what does this mean? is it possible to attach an email or a complete thread to another email.
This is extremely useful if we want to forward several emails to the same person, instead of sending one by one, we can attach several emails within a single email. It is as simple as dragging and dropping emails into the email you are composing.
Know how many words the emails have
And also, know how long it will take the recipient to read it. With this extension for Chrome called Email reading time for Gmail you can know just that. If you install it you will get a word counter for Gmail.
What it does is show the number of words and the estimated reading time of the email that you are writing right next to the email title, as long as you activate it from the button that it adds to your Gmail toolbar.
Reply with GIFs to your emails
Sometimes a GIF says more than a thousand words. If what you want is to add these animated images to your emails, the easiest way is use the same addons that are available in the G Suite Marketplace.
You just have to click on the "+" button that appears below the Google Calendar, Google Keep and Tasks icon in the bar on the right. This takes you to the download of add-ons and there you should find and install Gyfcat. When you have it, you can directly add GIFs to your emails from the bar on the right.
Feel like in Inbox again
If you are one of those who preferred the late Google Inbox, it is still possible to partially return that style to your Gmail inbox. A very good option is the Chrome extension Simplify Gmail.
With it, you will get back some of the simplicity and minimalism of Inbox, and it also eliminates all the noise that the Gmail interface has. Depending on your use of the mail, it can suit you like a glove.
Gmail to focus and create better habits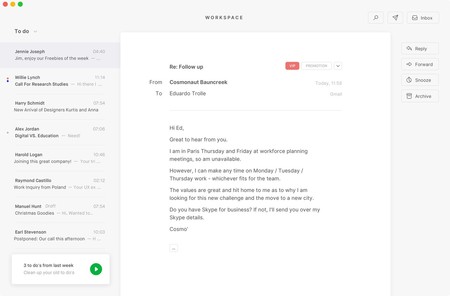 If you're into minimalism, you might be interested in trying Tempo. This is a minimalist email client for Gmail whose goal is to help you focus with an extremely clean and simple interface which also encourages us to bring our inbox to zero.
For now it is only available in free beta for macOS, but they promise that they will reach Windows, iOS and Android.
The unofficial Gmail app for Windows 10
If you want a more native email client and you use Windows 10, you have to try Wundermail, a Gmail app specially designed for Microsoft's operating system and that uses its Fluent design language.
You can download it for free and you will see the odd ad, or you can pay for a premium account.
Learn to detect when you are being cheated on
The latter is a curiosity more than interesting and also useful. Not long ago, Google launched a phishing test so that all users can know if they are able to detect when they are trying to cheat in Gmail.
The questionnaire that you can take from this link will show you multiple suspicious emails and you will have to identify if it is a pishing or a legitimate email. When responding, they will explain both the most common signals and the most difficult to identify when we receive a scam email.