Social networks go hand in hand with trends. An application becomes fashionable and many want to use it. One of the most used that you have probably seen these days among your contacts is the one that can create our genealogical tree within Twitter. Now, if you look at the list of permissions that must be given, you might think twice before wanting to access that information.
The user @Bruno Louviers has noticed the long list of information and concessions that one has to give to know something so banal like who's his tweeter family tree.
This application asks you to be able to manage your account
We have checked what the user says and he is right. Roun 'Yean Fun !, which is the firm that created this program, indicates that, so that you can know who your tweeting family is you must give these permissions to the application, which may;
View the Tweets in your timeline (including protected Tweets) as well as your Lists and collections.




View your profile information and your Twitter account settings.




See the accounts you follow, mute and block.




Follow and unfollow accounts on your behalf.




Update your profile and your account settings.




Post and delete Tweets on your behalf, and interact with Tweets posted by others (like, unlike or reply to a Tweet, Retweet, etc.) on your behalf.




Create, manage and delete Lists and Collections on your behalf.




Mute, block and report accounts in your name.



If you have already used it, you can delete it
On the other hand, another user, @jeffistyping, claims that this app uses your API access to follow an account from the users account who have given him the aforementioned permissions and silence him without him being aware of it.
if you did the "twitter family tree" thing that's going around, you should probably revoke access to the app and report it

They use their API access to follow an account from your account and mute it so you don't notice

- jeff (@jeffistyping) April 8, 2021
The good thing is that, as this same tweeter says, if you go to settings and privacy, from there you access your account and security and access to the account you can get to remove access to other applications on your Twitter. Access Connected Applications and there you will see which ones there are. Access this Family Tree application or others that you have from before and that may be similar and, at the bottom, click on the red letters that say "Revoke access".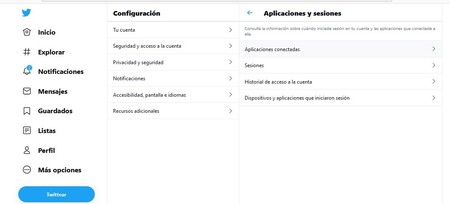 A common practice for apps to get permissions
This Family Tree is not an isolated case. Many are the applications created that They seem harmless content to entertain and that in the end are made with endless permissions and user information.
Remember from Genbeta we are talking about a website with which you can create your own Twitter interaction circle to discover the profiles with which you interact the most.
His name is Chirpty.com and never asks for access to your Twitter account. But its popularity led to the emergence of a much more invasive clone. Chirpty.me, with which you not only have to log in directly with your Twitter account, but you also have to give basically all possible permissions so I can take control of your profile.