Today all Android phones have a Bluetooth connection, but not the same version. If you want to know what version of Bluetooth exactly your mobile has, you can obtain the data using special applications to know the hardware of the mobile.
Having an "old" version of Bluetooth will not prevent you from connecting new devices, such as Airpods, but it does prevent you from being able to take advantage of all the features and maximum speed. We tell you how you can easily view Bluetooth version from your Android mobile.
What version of Bluetooth does my mobile have
The Bluetooth version is one of the sections that generally appears in the technical data sheet of the terminals, although sometimes the summary that appears in online stores or on the product box itself may not go into so much detail. When in doubt, it is best check the version on the mobile itself.
Although the system information section indicates data such as how much RAM and storage the mobile has, there is no trace of the Bluetooth version: the closest thing you can see is the MAC address of the Bluetooth. To know the Bluetooth version you will need a system information app, such as AIDA64.
AIDA64
AIDA64 is a veteran application that shows you a detailed summary of all the specifications of the mobile. It has specific sections for Android, CPU or screen information, although Bluetooth information is in the section System.
Tap on System and scroll through the list until you get to Bluetooth version, which will indicate exactly the numerical version of Bluetooth that the mobile supports, based on the internal metadata of the system.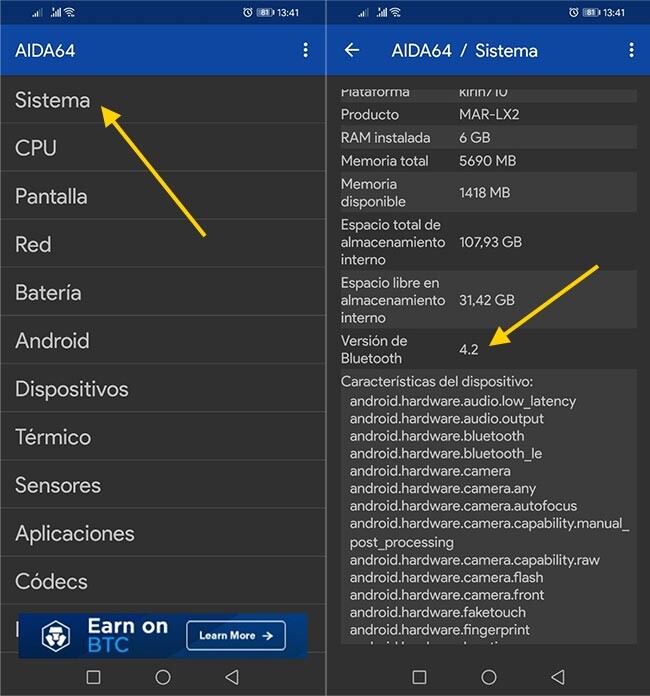 Remember that this implies that the mobile can use the built-in Bluetooth benefits up to that version. For example, if you have headphones with a Bluetooth 5.0 connection, but your mobile is Bluetooth 4.2, they will continue to work because Bluetooth is backward compatible, but with a lower speed rate than it supports.
If what interests you is to know the Bluetooth functions that your mobile supports exactly, the result is a bit technical, but you can find it in the free BT / BLE Checker app, available on Google Play.
BT / BLE Checker tells you the mobile's Bluetooth MAC address and different Bluetooth profiles and capabilities that are supported by the mobile. Unfortunately, there are no detailed explanations of what each of them is.