YouTube has been playing with the default resolution of the videos on its platform since the beginning of the pandemic. Excess bandwidth consumption That caused half the planet to be confined to home resulted in YouTube establishing that the videos go to 480p by default, and later changes have been introduced.
Be careful, this did not mean that we could not see the videos in high resolution but that they appeared at 480p when opened. Now we can also do the same, we can decide what resolution the videos will have when we open them just as promised. If we want them in 4K, if we want them in FullHD or whatever. We decide from the last change introduced by YouTube and we show you how to configure it.
How to set the default resolution on Youtube for Android
As we have mentioned, YouTube is now releasing the functionality that allows us to choose the quality we want the videos to have by default within their apps. It's over that some videos come out in one resolution and others in another, or that they all appear in the maximum resolution allowed by our connection even if we don't want to.
In the new options introduced by YouTube we find four possible selections:


Automatic selection, which will keep YouTube working as it has been up to now, choosing the resolution for us based on the strength of our connection or other factors.


The highest, which will make YouTube choose by default the maximum resolution at which the video is available.


Data saving, and the opposite effect will be produced, always selecting the minimum quality.


Advanced, to be able to select the quality that we want, and this is the option that interests us.


Thus, to be able to choose the default resolution in our app (once it is updated with the new functionality), we will only have to follow the following steps.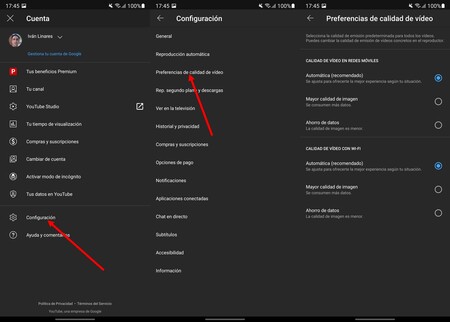 We open the YouTube app on our Android mobile.


Click on our avatar, in the upper right corner.


We choose 'Setting'.


Once inside we select 'Video quality preferences '' (This is the option that YouTube introduces in its latest version of the app).


Now we will only have to choose the resolution that we want both for data connections "On mobile networks"as for connections"With WiFi ".