The technology of fast pairing of Bluetooth devices takes a leap forward in Android thanks to Fast Pair: Google has not only improved its operation, also has spread a new design among compatible mobiles. In addition, Fast Pair pairs more than a hundred Bluetooth headphones in seconds.
When listening to music with Bluetooth headphones, there is always a first step that is unavoidable: the pairing of these headphones with the device that will broadcast the content. In Android, just go to the Bluetooth settings, search for new accessories, locate the chosen one and pair it with the phone or tablet; a multi-step, half-minute process that is greatly simplified by Fast Pair. The operation of this system is almost magical.
Automatic headset detection with configuration message on mobile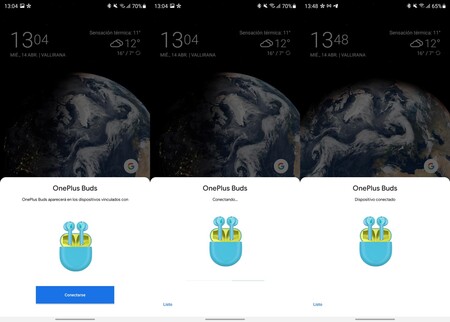 Fast Pair is Google's answer to the automatic detection of AirPods made by Apple phones and tablets. Only that detection is not restricted only to the Pixel Buds, the company's Bluetooth headphones: Google has extended the aforementioned Fast Pair to any manufacturer that wants to implement it in their Bluetooth headphones, especially the TWS.
The new design began its experimentation at the end of 2020. With it, Google looked at the appearance of the notification on the iPhone: generously sized 'popup' at the bottom of the screen, the device's name and its appearance. In this way, the user not only identifies instantly that the alert comes from his device, but also configure it in a single and simple step: by clicking on the 'Connect' button. And voila, the system takes care of the pairing.
Fast Pair significantly speeds up the inclusion of Bluetooth devices. For the moment headphones, but it would not be strange if Google took this system to other accessories; such as watches or activity bracelets (Android automatically detects Wear OS watches that are being configured, for example). Just like Google ensures, Fast Pair already accumulates more than 100 compatible headphones, a considerable number.
The new Fast Pair experience on #Android is here. With an updated, easier-to-use layout, see how it makes connecting Bluetooth devices to 100+ devices from partners like @JBLaudio and @SonyElectronics more simple and convenient all with a single tap. pic.twitter.com/cWuMMcATrP

- Android (@Android) April 13, 2021
To find out if your headphones have Fast Pair or not, you just have to start pairing with the Android device nearby: the connection message should automatically skip. This Fast Pair is included in Google services, so you do not need to install any application: the new design will have already reached you; As long as your Android has Google apps, of course.
More information | Google