Google Earth today presented a major update to its service, the largest since 2017 and whose main feature is that now you can see the earth from a new dimension, which is "time" thanks to the Timelapse function. This translates to Google has integrated 24 million satellite photos taken in the last 37 years. Now you can see how time has passed around the world.
In addition to the 24 million photos, Earth has been updated with more than 800 Timelapse videos in 2D and 3D for public use. In this function, you can select any video you want as a ready-to-use MP4 video.
It should be said here that although the leader of this project affirms that you can see anywhere in the world, it must be said that I have not managed to find my town. In fact, in Asturias there is only the change that the capital, Oviedo, has experienced (which does not show immense changes, at least from the Earth perspective). So, Although it is a huge global database, all all the places are not.
Natural phenomena and climate change
One of the most obvious conclusions from these images is how climate change is affecting the earth. And that is the goal of Google. According to Rebecca Moore, director of Google Earth, Earth Engine and Outreach "our planet has seen rapid environmental change in the last 50 years - more than in any other period in history "and with Google Earth Timelapse we have a better - and closer - view of how the planet is changing.
In addition to these changes, you can also see natural phenomena that have taken place during these decades. In order to do a more precise search on what each one wants to see. You can look according to the regions of the world or according to topics that interest you the most: agriculture, infrastructure, water, forest change, megapolis or fragile beauty, among others. When looking for the place that interests you You can watch a short video in 2D, 3D or download it that shows that place over the years.
How this project has been developed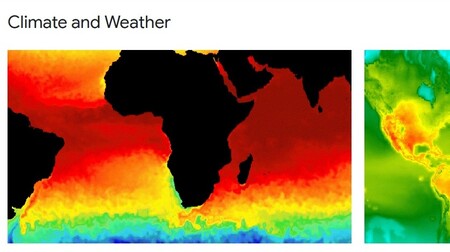 To develop this technology that makes it possible Timelapse Google has collaborated with experts from the CREATE Lab at Carnegie Mellon University. "When we set out to analyze what is happening on planet Earth, five themes emerged: forest changes, urban growth, warming, energy sources, and the fragile beauty of our world ", said the director of the project.
To integrate the animated images of Timelapse into Google Earth, more than 24 million satellite images taken between 1984 and 2020 were collected. In total, it took more than 2 million hours of processing on thousands of machines in Google Cloud to "weave" 20 petabytes of satellite images in a single video mosaic of 4.4 therapixel (the equivalent of 530,000 videos in 4K resolution).
Google Earth Timelapse relied on materials from NASA and the Landsat program of the United States Geological Survey, the world's first civilian program for Earth observation and without the Copernicus program of the European Union with its Sentinel satellites.