Yes you want it count your steps, a few years ago you needed a physical pedometer, but today our mobile phone can do the job. All you need to do is take your mobile with you and have an app installed that counts the steps.
There are literally hundreds of applications to count steps on Google Play, although you may already have one that does it installed on your mobile. Besides giving you the list, we have put them to the test to see how close they are to the real number.
The best apps to count steps on Android
We start with the list of Nine best apps to count steps on Android today. The list ranges from applications more focused on health to others focused on sports or simpler pedometers.
Google fit
Google Fit is Google's all-in-one health app, which acts as a HUB to which other apps can sync their data. Among many other functions, Google Fit can record the steps you do during the day, even if you do not have a smartwatch or sports bracelet.
Google Fit centers its measurements around the minutes of activity and the cardio points, but that does not prevent it from counting other more specific data such as steps, calories expended and kilometers tours. Each training is also saved and you can consult it later.
Google Fit: activity and health tracking
Samsung Health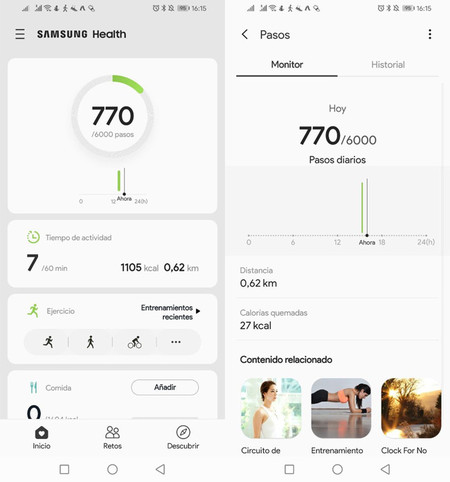 Samsung Health is the same as Google Fit, but replicated by Samsung. It is an app in which you can centralize measurements and health information, from all your exercise sessions to how many glasses of water you drink per day. One of these data, and which is automatically recorded, is the steps.
Despite what its name might suggest, Samsung Health It can be installed in mobiles of other brands And it is a very valid alternative to Google Fit, if the measurement that Google does not convince you too much.
Samsung Health
Huawei Health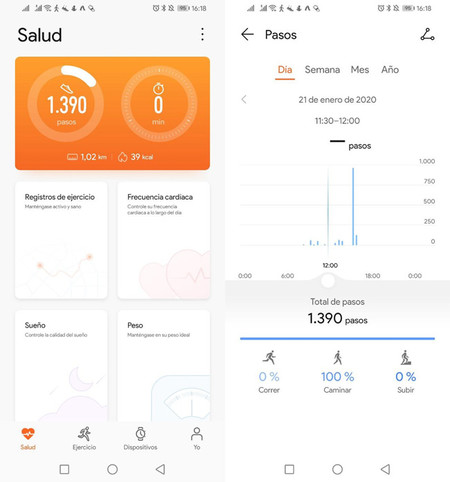 Just as Samsung Health can be installed on other devices, the same happens with Huawei Health. After all, it is the application with which you manage Huawei wristbands and smartwatches, which can be managed from mobiles of any brand.
Huawei Health is not as complete as Samsung Health or Google Fit, but it has its step log automatic even though you do not have a bracelet or smartwatch to take the measurement. These measurements can be consulted in the registry or shared with friends.
Huawei Health
Pedometer - step counter
Already in a more specific field we have Pedometer, an application that, unlike the previous ones, it only does one thing: count steps. If that is all you are looking for, this app is a good alternative as it does not distract you with other functions and does not require you to create an account (although, if you want, you can synchronize your data in Google).
Pedometer is a simple and straightforward application, but it has everything you need. Shows the steps, calories, walking time and distance, in addition to having a good number of achievements to keep you motivated.
Pedometer -Step counter, calorie counter
Accupedo
Another simple, step-tracking-focused alternative is Accupedo, with more than 5 million downloads on Google Play. After opening it, you can see at a glance how many steps you have taken, as well as the distance traveled, calories expended, average speed and active time.
By sliding the screen some additional functions appear, being a summary of the fulfillment of the objectives during the week especially interesting. It is also possible record your body weight in the app.
Pedometer - Accupedo
Pacer pedometer
Pacer pedometer, or simply Pacer, is visually similar to Accupedo, although the look is more polished and more features are included. For example, you can record your workouts using mobile GPS.
Of course, it also works in the background counting your steps even if you have not opened the application, and then you can check the average, the calories, distance and active time, in addition to joining programs to improve your physical condition (for a fee).
Free Pedometer - Step and Calorie Counter
Runtastic Steps
Runtastic - now called Adidas Running by Runtastic - is one of the most popular exercise log apps, and features a spin-off focused on counting your steps: Runtastic Steps.
Runtastic Steps has a simple but attractive design, and stands out for showing you the statistics and history with your walks in a more visual way and colorful than other similar apps, with weekly, monthly and yearly averages.
Runtastic Steps: count steps and daily activity
Step tracking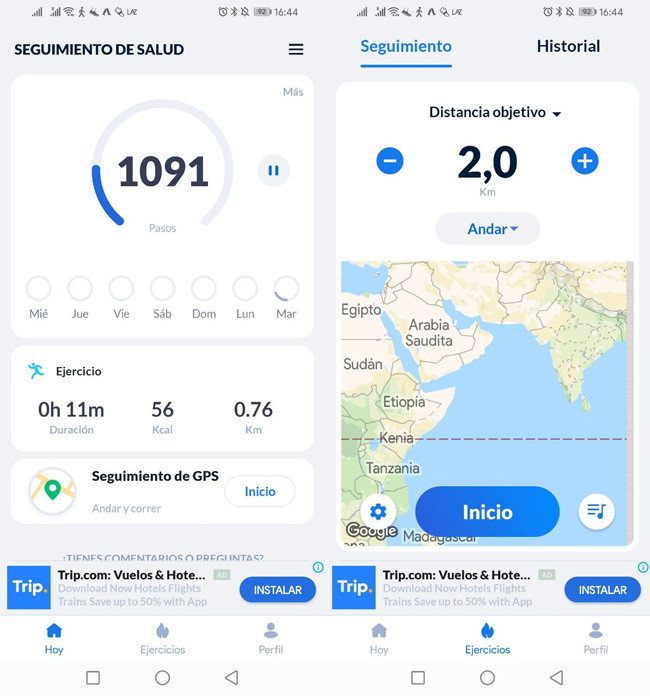 Another application with which you can count your steps is Health Tracker, with a nice design that focuses on showing your steps for the day and the graphs of how did you meet your goals during the week.
In addition to passively counting your steps, from the tab Training you can record training sessions using the mobile's GPS, marking in advance a target distance that you want to walk.
Step Tracking - Free Pedometer
Noom
Noom earned a certain reputation a few years ago for being an application capable of recording the steps you do with your mobile with hardly any battery consumption. This was the exception a few years ago, although today the normal thing is that the mobile has a step-counter sensor and the battery consumption is minimal.
Still, Noom can be a good alternative for an old mobile in which the system cannot count the steps. Another advantage is that the app has plans to help you lose weight or live healthier, although the most complete plans are paid.
Noom: Health & Weight
How reliable are the measurements
Counting steps is easy, but counting them properly is not so easy. To find out how reliable the above applications are, we have put them to the test with a simple test: walk 1,000 steps and see how many each application marks. As a reference, we have included the data collected by a Mi Band 2 in the Mi Fit app, which only has steps with the help of a device.
| | Measured steps | Error range |
| --- | --- | --- |
| Google fit | 1091 | 9.10% |
| Samsung Health | 990 | 1.00% |
| Huawei Health | 1091 | 9.10% |
| Podometer | 1091 | 9.10% |
| Accupedo | 1091 | 9.10% |
| Graze | 1091 | 9.10% |
| Runtastic Steps | 1093 | 9.30% |
| Health Tracking | 1091 | 9.10% |
| Noom | - | - |
| My band | 941 | 5.90% |
| Actual figure | 1,000 | |
As you can see, the result is exactly the same in the vast majority of applications. Not because all of them have agreed, make the same calculation and obtain the same result, but because the apps do not calculate the steps, but it is the mobile that sends them the data, using the permission of Physical activity.
The vast majority of apps take the steps data directly from Android, so the result is the same
While in the past developers needed to manually listen to the accelerometer to count steps, today developers can get the steps directly from Android or through Google Fit. The process is relatively simple and relies on the mobile's step sensor, which can be virtual (software-based) or physical.
Therefore, all applications for counting steps are just as reliable on the same mobile, and as reliable as the mobile step sensor. In my test, the margin of error has remained around 9.10%, while the Mi Band came closer with 5.90% and who almost nailed it is Samsung Health, with a 1% error.
Even with everything, considering that we are talking about a count automatic, with hardly any battery consumption and with your mobile phone in your pocket as in hand, the truth is that a 9% error is not bad at all. These apps aren't perfect, but they don't need to be.