This phishing scam poses as celebrities like Martita de Graná on Facebook to make us believe that we have won a raffle
Get link

Facebook

Twitter

Pinterest

Email

Other Apps
A few hours ago I received a notification on my Facebook account from one of my favorite comedians. Martita de Graná commenting on a video that I had shared of her in December 2020 telling me that "congratulations, you were selected as the winner in my event and you are entitled to a prize of € 1000 from my sponsor. please visit my profile. You win!"
When accessing the profile of the artist who has selected me to access a prize of 1,000 euros, the information of this "special draw 2021" appears. The text of the draw in which they say that 50 of Martita de Graná's followers can, supposedly, get 1,000 euros, offers steps to aspire to the award:



Step 1, like this post





Step 2, register your name here: https://tinyurl.com/fvne3xw6





Step 3, if you have completed the registration process, send a message via private message or comment column





Yes registration is successful, we will send you a gift. These specials are backed by some of the best movies and trailers. Many thanks to all the parties and sponsors who have contributed to this special event ".



The link to access suggests that it is a case of phishing. To enter a photo of the artist appears on a stage, a photo of the comedian's official name appears and explains again that this is part of a raffle among randomly chosen followers. This website is hosted at sites.google.com and includes a blue box with the word "register" to access a different website.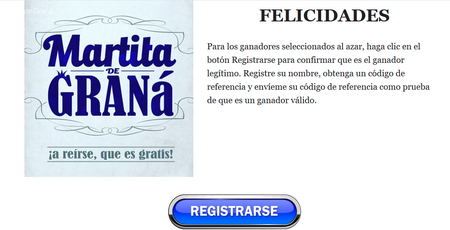 Representatives of the humorist They have limited themselves to telling us that they have been fighting this scam for months.. Although this raffle has just been announced and the comments of the artist's followers are from the last hours, the comedian's environment explains that this case of phishing appears from time to time.
How to recognize a scam like this
In general, you have to look at small details of the profile. And never trust messages that may seem suspicious. To begin with, it is rare that one year after the pandemic hit Spain, which has brought 12 months of leanness to show business (albeit a lot of online ingenuity) because of social distancing measures, an artist decides to give away 50,000 euros to her social media followers.
Besides this, there are other issues that make you see that this Facebook profile is not real:
Cover photo missing: (the one in profile of this phisher, uses the same one as Martita de Graná).




The first step to get the award is not understood: "Like this publication", it indicates. That "how" seems to be an error in the translation (it must be remembered that the word like, which can mean like (and that is used in that simple way to say that you like a photo) in English, can also be translated into the adverb comparative like.



The fake username includes a hyphen and the capital letter "d" of the preposition: "Martita-De Graná".




Lack of content: the profile of the phisher has different real videos of the comedian from the past months but these have very few "likes", which collides with the fame of the artist. Also, these videos do not have the possibility to leave comments.



Responses to users are not always the same: In the profile of "Martita-De Graná" users who say that they have already participated in their contest, the answer is sometimes presented in Spanish and sometimes in English.




Many of those who participate in the draw have foreign namesDespite the humor of this artist, speaking a lot about Spanish culture and also doing it in this language, many of those who say they have participated in the draw have names in foreign languages.




An official website is missing: the website that the draw takes you to is not an official website.



Get link

Facebook

Twitter

Pinterest

Email

Other Apps