We recently discussed how to manage Netflix, HBO, Disney + or Prime Video subscriptions to see all the desired content while spending less. Our key was simple: plan well which series we want to see month by month and only hire a service for as long as it has interesting things to see on a day-to-day basis.
This did not imply sharing an account with family and other people, but there are those who prefer to have everything and continue paying less. In the absence that sharing Netflix is ​​more difficult, we propose two websites that make life much easier when it comes to finding people to share that platform and others for streaming video or Spotify, along with services such as VPN, Office 365, etc.
Together Price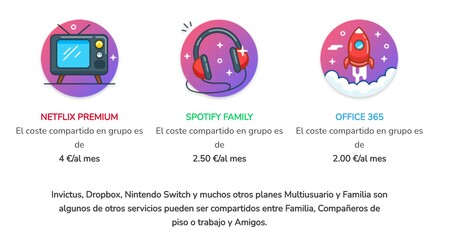 Together Price is a website that works like intermediary to search and find groups to share Netflix with and much more: Audible, Deezer, Plex, MUBI, Storytel, Setapp, PureVPN, Spotify Premium, Disney +, HBO, Nintendo Switch Online, YouTube Premium, etc.
We need to register, and the platform will allow us to search for groups of people who seek to share each service. At a glance, we can see groups that have already been created, the number of people in them (along with free spaces), and how much fee is paid for each service. Thus, for example, in the case of Disney +, the cost of is € 21.16 per year in a group of three people.
Unlike sharing a group with friends with whom we agree to divide fees and pay them by making Bizums, transfers or paying by hand, Together Price has its own payment gateway to distribute all the charges, send them to the administrator and we do not have to worry. Y This way they earn money, charging a commission of between 18 and 30% depending on the service. As they say on the web, it has a management cost of € 0.99 in Netflix or Spotify groups.
If we need to communicate with the administrator of a group, or simply contact other participants, the chat integrated in Together Price can be used.
Pulpo, a service more focused on Spain
Pulpo is another Spanish alternative that helps share Netflix accounts, Disney +, Filmin, HBO, Movistar + Lite, Netflix Premium and Spotify Familiar. You can be an administrator or a member of groups, that is, be the one who manages the account or who participates in one already created.
Charge a commission of between 0.50 and 1.50 euros to participants Depending on which platform is used, and like Together Price, it is in charge of automating that payments reach the administrator so that he pays the shared subscription when he touches.
That is to say, with these services we can end up paying more than if we divided the subscription with trusted friends, but it is good to know that they exist in case we don't find who to share with. Perhaps finding to do it on large platforms is easy, but things get complicated with other smaller or more niche ones.
Just using Netflix, HBO and Disney + with monthly installments, the savings can be more than 200 euros per year.
The accounts are easy: sharing HBO, Netflix and Disney +, the monthly cost can be 13 euros, while without sharing, the cost of the three goes to 30, with the standard Netflix plan. A year is 204 euros of savings.