Get link

Facebook

Twitter

Pinterest

Email

Other Apps
Year after year, WhatsApp calls eat up traditional calls, so it is increasingly important to have a mobile that is compatible with WhatsApp so as not to be cut off from communication. This also includes old people, which have their own requirements for the functions and features they need.
Although WhatsApp is available on other simple mobiles with KaiOS, the advantage of Android is that it can be modified to adapt it to the needs of the elderly. In this list, we bring you simple, cheap mobiles with WhatsApp for the elderly.
TTfone Titan TT950
The TTfone Titan looks like a feature phone, but it actually runs on a heavily modified version of Android, with very large buttons for the main functions. Is included WhatsApp, with support for calls and video calls.
It is a shell-type mobile with an old-fashioned T-9 keyboard, which includes shortcuts to open the camera or frequent contacts: it is therefore not very suitable for chatting. The mobile has on the back a SOS button which sends the location and calls the contacts that have been set up.
TTfone Titan TT950 Whatsapp 3G Touch Screen Senior Big Button Flip Mobile Phone: Easy and Easy to Use
Doro 8050
Another Android mobile specially designed for the elderly is the Doro 8050, although this time we have a terminal with a more normal design, but better adapted from the factory than normal mobiles. To get started, the launcher is much simpler and with larger buttons.
Google Play is included, so you can download WhatsApp and other applications. Pre-installed is the Google Assistant, YouTube and the rest of the applications. Its creators stand out the sound volume, and an emergency button is included behind to quickly alert established contacts in advance.
Alcatel 1B
Leaving the field of specific mobiles for the elderly and entering that of ordinary, cheap mobiles, and with WhatsApp, the Alcatel 1B fits perfectly in the description, with a old-fashioned design, Android Go and a 3,000 mAh battery that should give enough of itself (according to its creators, up to 16 hours of conversation).
The Alcatel 1B mounts Android Go, which is a straightforward version of Android itself, with a handful of apps pre-installed. There are no specific functions for seniors, although the mobile has a dedicated button to open the Google Assistant which can be useful for doing some functions (such as telephoning someone) with your voice.
Alcatel 1B - 5.5 "HD + Smartphone, 18: 9 Screen, Quadcore, 2GB Ram, 32GB Memory, Expandable MicroSD, 8MP Camera, 5MP Front, 3000 mAh Battery, Black [Versión ES/PT]
Nokia 1.3
The Nokia 1.3 is Nokia's simplest and cheapest mobile to date. It's another terminal with Android Go, which has a few lightweight apps pre-installed, as well as being able to install WhatsApp and other apps from the Google trend.
It is a sober mobile and compact in size, for those who prefer to have something more manageable. It has a 5.71-inch screen, FM radio, and 3,000 mAh battery that should give itself in conjunction with the Snapdragon 215 on board.
Nokia 1.3 - 5.71 '' Smartphone (1 GB RAM, 16 GB ROM, 8 MP Camera, 3000 mAh Battery, Dual Sim), Charcoal [Versión ES/PT]
Samsung Galaxy A12
Just because it is a mobile for the elderly does not mean that it has to be an old model. The Samsung Galaxy A12 has only been on the market for a few months and is a good option when the previous ones fall short. It is worth mentioning that it has 6.5 inch screen and a 5,000 mAh battery that should give a lot of it.
In addition to the advantage of starting with the version with 32 GB of RAM (and thus having more margin before "filling the space"), the Samsung layer includes a Simple mode which simplifies the interface of the home screen, the size of the text and the settings, thus making the Galaxy A12 a standard mobile that is better adapted to the needs of the elderly.
Samsung Galaxy A10 - Smartphone 6.2 "HD Infinity (32 GB, Dual-SIM, 3400 mAh), Color Black [Versión española]
Motorola Moto E7
The Motorola Moto E7 is Motorola's most modest mobile, which is more than enough mobile for WhatsApp and other apps. For just over 100 euros, it is a large mobile, with 6.5 inch screen and HD + resolution, Helio G25 and 2 GB of RAM.
It has Android without modifications, so you will not have a simple mode as with other layers, but it has a useful button to invoke the Google Assistant with one press, FM radio and resists splashing water.
Motorola Moto E7 - 6.5 "Smartphone (HD + MAX Vision, 48 MP Dual Camera System, 4000 mAH Battery, Dual SIM, 2 / 32GB, Android 10), Gray [Versión ES/PT]
Xiaomi Mi A3
Xiaomi seems to have abandoned the Xiaomi Mi A series, but its latest member, the Xiaomi Mi A3 is still a great option, being a good, nice and cheap mobile in which you can use WhatsApp and much more. One of its drawbacks is having an HD + screen, which generally will not have as much weight for those who are looking for something normal for WhatsApp.
With Snapdragon 665 and 4GB of RAM, it will go smoother performance than other terminals from this list and, although it includes pure Android, which does not have a simple mode per se, you will be able to access all of Google's accessibility tools, such as Google Voice Access or emergency contacts.
Xiaomi Mi A3 Smartphone 6,088 "AMOLED, 48MP AI Triple Camera, Dual SIM, 4 RAM + 64 GB ROM, Qualcomm Snapdragon 665, Octa-core Processor, Gray Color
Xiaomi Redmi 9a
From the same house, but very different, is the Xiaomi Redmi 9A, one of the cheapest Xiaomi terminals. Unlike the Xiaomi Mi A3, the Redmi 9A has MIUI 12 on Android 10, which means that you can activate Lite Mode or simple mode, which simplifies the interface.
The Redmi 9a is an ordinary mobile phone, with a 6.53-inch screen and a 5,000 mAh battery that should give enough of itself. In it you can install WhatsApp or practically any recent application.
Xiaomi Redmi 9A - Smartphone 32GB, 2GB RAM, Dual Sim, Granite Gray
Huawei Y5 2019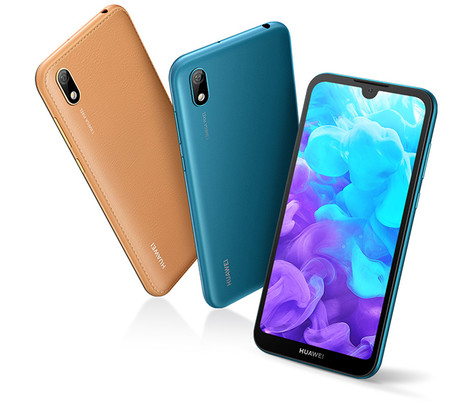 As in MIUI, Xiaomi's customization layer, in EMUI, Huawei's, is included Simple Mode, which simplifies the interface and makes the icons and texts larger, adapting it better for the elderly.
The Huawei Y5 2019 is an ordinary mobile from Huawei's pre-veto era, so it has Google Play, Google applications and WhatsApp can be installed without problems. There is nothing written about tastes, but the version with the pseudo-leather back may be to the taste of some of our elders.
Huawei Y5 2019, 5.71 "Smartphone (2 GB RAM, 16 GB Memory, Dual Nano, 3020 mAh, 13 MP Camera), Wi-Fi 802.11 b / g / n, Bluetooth 5.0, Android, Black
LG K42
We finish our list with another mobile at home capable of running WhatsApp and other normal applications, the LG K42, an ordinary and cheap terminal With a slightly more current design than others on our list, having a perforated front camera on the screen.
The LG layer also has a simple way to simplify the system interface, to which are added two characteristics of this terminal that can be useful: the back has a design for easy grip and it also has a military resistance certification.
LG K42 - Smartphone 64GB, 3GB RAM, Dual Sim, Green
Get link

Facebook

Twitter

Pinterest

Email

Other Apps