Do you have a new Android TV or are you looking to get the most out of the one you already owned? Well we offer you a list of the best applications for this system: with them you will get all the game that your player or TV with Android TV can offer you.
Since Android TV is still an Android, a part of the mobile applications have their equivalent for the television system. It is not that devices dedicated to the big screen have a huge range of apps, but they do have enough examples to watch streaming multimedia content, from the phone, to listen to music and for other equally recommended uses. Let's see our recommendations by type of app.
Applications to play content on Android TV
The TV is basically to reproduce multimedia content, either by downloading in streaming or accessing the videos and music you already have saved offline. Taking into account that Android TV is a widespread and widely used system, most streaming platforms have their own app to access from TV.
Let's go step by step: from popular streaming platforms to players with which to see and listen to what you have stored in the player.
Streaming platforms for Android TV
They make up the basics of Android TV since players with this operating system offer an excellent service on most popular platforms. As is obvious, you need a subscription to access most content. If you subscribed, forget about the Chromecast to access series and movies directly from the TV.
Netflix. The most popular movie and series platform has its own application for Android TV. It is available on Google Play.


Disney +. There is not much more to say about this platform: it offers the house classics and new productions, all at the stroke of 'play'. Your Android TV app is here.


HBO. While waiting for HBO Max to reach all countries (along with an application that is up to par in quality and performance), the platform gives access on Android TV to the catalog it currently distributes. Download the app from here.


Amazon Prime Video. If you have Amazon Prime, you also have a huge number of movies and series at your fingertips. And you can watch that content on your Android TV; download it from this link.


Movistar +. Essential if you subscribed to any of their payment packages, even if you have Movistar + Lite. Direct, video on demand and a large catalog: you have its app for Android TV at this link.


Filmin. One of the platforms with the most careful film catalog also offers access through Android TV. If you have a Filmin account, the app is here.


Tivify. Excellent platform if you want to have access to DTT with on-demand viewing of everything broadcast during the last seven days (in addition to being able to record the content). If you subscribed to Tivify download its app from this link.


RTVE à la carte. Application of the Spanish Radio and Television Corporation with live shows and thousands of hours of programs, series and movies on demand. It's on Google Play.


Pluto TV. What do you want to see quality content without paying a penny? Pluto TV offers you a great selection of channels free of charge and with ads. It's on Google Play.


Spotify. Do you want to listen to music on TV? The Spotify app for Android TV gives you access to your playlists and themes. You have it on Google Play.


Deezer. As with Spotify, Deezer also offers its own app for TVs and players. In the event that you have subscribed, download the app from here.


Amazon Music. Also with its app adapted to the needs and appearance of Android TV. Download it to your TV from here.


TuneIn Radio. Radios already arrive through the terrestrial antenna, but you may need a much wider range of stations. Well, there is TuneIn Radio: download it from Google Play.


Play your content on TV
With the previous apps you have access to the different streaming platforms. However: What if you already have your own content and want to play it directly on your Android TV? There are many ways, with the following applications you will have it easy.
Kodi. An app so gigantic that you can even play with it. It can also be used to watch all the music and video you have saved on TV: either by connecting a storage medium to the Android TV or by accessing your content in server mode. You can download Kodi from Google Play.


Plex . Quite similar to Kodi: with Plex you can access the content you have on your local servers from TV; or on mobile, for example. You have Plex here.


AirScreen. This application allows you to share with the TV everything you have saved on your mobile. And it supports various wireless streaming protocols, including AirPlay. You can download it from this link.


VLC. These three letters already say everything that the app offers: it is a high quality player and compatible with a huge variety of codecs. It also has a version for Android TV: you have it here.


Applications to manage your Android TV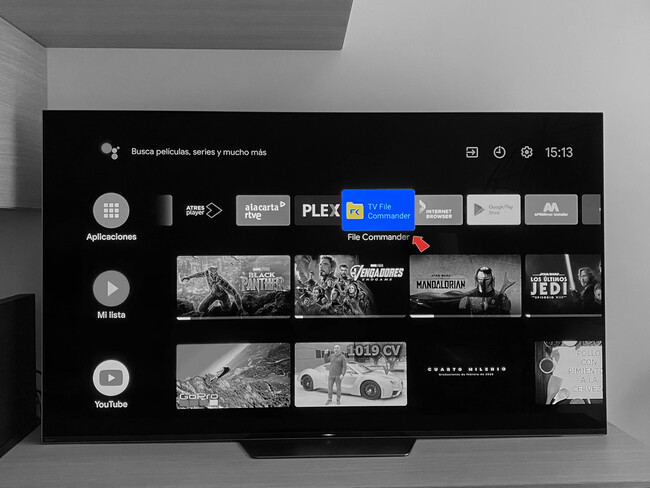 In this section we will add those applications that are tremendously useful on Android TV, either to manage the installed content or to expand its possibilities. It is not that the television system is as versatile as that of mobile phones, but it does not stop offering possibilities.
Puffin tv. It is the best web browser that is available in the Google Play of Android TV. Quite powerful, very complete and adapted to use with the remote control: download it from this link.


Send files to TV. Very useful app to send files between TV and mobile. With it you can pass a video, an APK, a song, a file ... You need to install it on TV and also on your mobile: download Send files to TV from here.


EasyJoin Go TV. Very useful for transferring files between TV and mobile: fast, effective and suitable for any content. Of course, it is paid: you have it for 2.39 euros on Google Play.


File Commander. Our preferred file manager on Android TV. With it you can access what is saved in the cloud, everything you have on TV and it also allows you to install the APK files. Highly recommended, you have it here.


Sideload Launcher. If you are going to install Android applications that are not specifically designed for Android TV, this launcher will come in handy: Sideload Launcher collects all installed apps to open them easily. It's on Google Play.


Apps suitable for Android TV that are not in the store
From the Google Play Store of your Android TV you can download all the software specifically adapted to the system, but it is not the only thing that works on your device: there is a huge amount of software that will be useful to you and that you can install in very few steps. It is worth keeping in mind.
Next we leave you with our essential APKs for Android TV.
Google Stadia. In principle it should arrive soon to Android TV, but at the moment it is not officially available. Although yes, you can upload the latest version of Stadia for Android to your TV or player: it will work more or less the same. Upload the latest available APK to your device.


Microsoft Game Pass. Essential if you want to enjoy all your streaming games on TV and without the need for other devices apart from your Android TV. Upload the Android app (the mobile one), connect a Bluetooth controller and log in with your account. Install the file after downloading it from Apk Mirror.


GeForce Now. In the Nvidia Shield it appears native, but it is not the case of the other Android TVs. Even so, you can easily install the Android version: it also works on other Android TV devices. Download the latest APK from Apk Mirror.


Google Chrome. What do you want a browser for the big screen and you are not convinced by Puffin TV? You can use the Google Chrome of Android, it fits well with the TV interface. You just have to install the latest APK available.


TDT Channels. This excellent application allows you to see all the free DTT channels live and without having to connect the terrestrial antenna. You can download it from their website.


Is there any other application that you currently use on your Android TV that you could not be without? Leave it in the comments.