Get link

Facebook

Twitter

Pinterest

Email

Other Apps
Are you looking for a tablet with Android and your budget cannot exceed 200 euros? No problem, we have chosen for you a selection with the best options at your fingertips. Inexpensive tablets, with enough screen and perfect for both leisure and study.
Tablets are not a device that has as much pull on Android as it happens with mobile phones. And of course, it is enough to look for a decent model with this operating system to make it difficult to find candidates for the perfect purchase. Recognized manufacturers have specialized in mid and high-end models; hence the limit of 200 euros imposes serious difficulties.
Choose an inexpensive tablet, with sufficient quality, that maintains decent performance and that has a minimum guarantee it is not easy. Let's see which are the cheap Android tablets that we recommend.
Samsung Galaxy Tab A7
Samsung is one of the brands that has bet the most to offer a range of competent Android tablets, not in vain models available in all price segments. Also in the line below 200 euros, as the Samsung Galaxy Tab A7 shows: it is a tablet with a generous screen, light and with decent performance for its price.

The Samsung Galaxy Tab A7 has a 10.4-inch FHD screenIt offers 3/32 GB, has a Snapdragon 662, includes an 8-megapixel rear camera with a 5-megapixel front camera and the battery is a generous 7,040 mAh. If you buy it in the Samsung store, you get a Samsung Galaxy Fit2 as a gift.
SAMSUNG Galaxy Tab A 7 | 10.4 "FullHD Tablet (WiFi, Octa-Core Qualcomm Snapdragon 662 Processor, 3GB RAM, 32GB Storage, Upgradable Android) - Gray Color [Versión española]
Samsung Galaxy Tab A (2019)
We descend a step in screen dimensions without exceeding our limit of 200 euros: the Samsung Galaxy Tab A (2019) is perfect if you are looking for an 8-inch panel; with the downside of HD resolution. It's the 2019 model, with what that means for upgrades and performance.
The Samsung Galaxy Tab A (2019) tablet has an Exynos 7904 SoC that is accompanied by 2 GB of RAM and 32 GB of storage. It has an 8-megapixel rear camera, 2-megapixel front camera and offers 5,100 mAh of battery.
Samsung Galaxy Tab A (2019) - 8 "Tablet (Wi-Fi, 2GB RAM, 32GB Storage, Upgradeable Android) - Black
Huawei MediaPad T5
This is an inexpensive tablet without excessive fanfare in terms of specifications, but it is enough and enough for the vast majority of uses. In addition, it has an important addition: Google services and applications, including the Play Store.
The Huawei MediaPad T5 has a 10.1-inch FHD screen, 3 GB of RAM, offers 32 GB of storage, 5,100 mAh of battery, the processor is a Huawei Kirin 659It has a 5-megapixel rear camera and a 2-megapixel front camera.
Huawei Mediapad T5 - 10.1 "FullHD Tablet (Wi-Fi, 2GB RAM, 32GB ROM, Android 8.0, EMUI 8.0), Black Color
Huawei MatePad T 10s
More modern, with better features, more powerful and with a notable downside: lacks Google apps and services. Even so, it is still a good option if you need a large work surface, a good device to consume multimedia or a perfect tablet for children.
The Huawei MatePad T 10s is an Android tablet with a Huawei Kirin 710A processor. Offers a 10.1 inch FHD screen, 3/64 GB, has quad speakers, 5 megapixel rear camera, includes 2 megapixel front camera and 5,100 mAh battery.
HUAWEI MatePad T10s - 10.1 "Tablet with FullHD Screen (WiFi, 3GB RAM, 64GB ROM, Kirin 710A Processor, Quad Speakers, EMUI 10.1, Huawei Mobile Services), Blue Color
Lenovo M10 Plus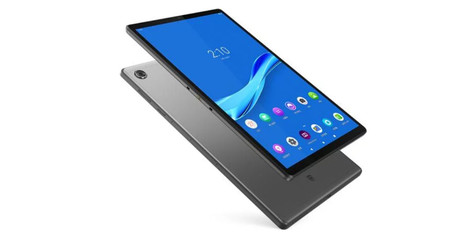 Metal body for an elegant and well-built 10-inch tablet. Maintains a good balance between performance and price, always without offering excessive bragging in terms of power. As a multimedia support and for studies, it plays a more than decent role.
The Lenovo M10 Plus has a MediaTek Helio P22T processor, 10.3-inch FHD screen, offers 4/64 GB, the battery is 7,000 mAh, includes a 13-megapixel rear camera and an 8-megapixel front camera.
Lenovo M10 FHD Plus- 10.3 "Full HD / IPS Tablet (MediaTek Helio P22T, 4 GB RAM, 64 GB expandable up to 256 GB, Android 9, Wifi + Bluetooth 5.0), Platinum Gray
Amazon Tablet Fire HD 8
One of the cheapest recommended tablets that can be bought and with the Amazon guarantee. The Fire HD 8 offers access to the company's app store while also having a wide variety of multimedia content: most streaming applications are available.
One of the biggest drawbacks is that the resolution of the 8-inch screen is HD. Beyond here, Amazon offers versions of 32 and 64 GB, the RAM is 2 GB, it has a rear and front camera of 2 megapixels, the speakers are dual and can be chosen in version with and without advertising. Our recommendation is that you invest in the ad-free version.
Fire HD 8 Tablet, 8 Inch HD Screen, 32GB (Black) - Ad Free


Note: some of the links published here are from affiliates. Despite this, none of the articles mentioned have been proposed either by the brands or by the stores, their introduction being a unique decision of the editorial team.


Get link

Facebook

Twitter

Pinterest

Email

Other Apps