Soon the Windows 10 folders will have new icons, they will leave the classic yellow to have a more consistent design with the new image that the system icons have been adopting more recently. But, for now, those icons They will only be in a preview version for Insiders, and those who are not willing to use unstable versions of Windows 10, will have to wait.
Nevertheless, third-party icons for Windows 10 It is something that is left over, and if you move between the customization communities that are on sites like DeviantArt, you will not be surprised to learn that they have already created an icon pack for Windows 10 with the new style that the version for Insiders is using. We tell you how to install it.
How to install the icons
This icon theme is created by DeviantArt user niivu who is famous for creating themes for Windows 10 in the customization community. The folders are obviously a replica of the icons presented by Microsoft, but this topic customize many more icons than just the main folders.
The rest of the work is an adaptation of the Fluent style that has been injected into Windows 10 in recent years and one that looks great and pretty consistent. Installation is relatively simple, but you will need to use a special program to be able to apply the icons correctly automatically. but you need to follow some steps.
Download the .zip file from the DeviantArt icon page and unzip the file in the folder of your choice.


Once this is done you will have a folder called "Windows 10 Insider Preview Icons".


Inside that folder you will find several files, the icon pack is the one called 7TSP Windows 10 Insider.7z.remove


You will have to rename the icon pack and remove the word ".remove" from the name so that it looks like this: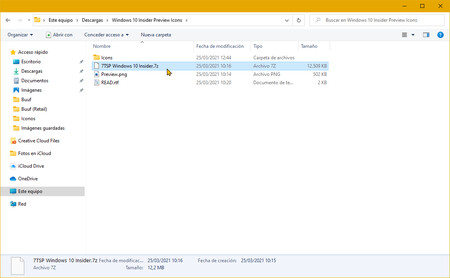 Now you must download the necessary application to be able to apply those icons to your system. Its name is 7TSP (Theme Source Patcher) and you can download it from this link on DeviantArt


Unzip the 7tsp_gui .zip file and inside you will find a file called 7tsp GUI v0.6 (2019) .ee, you will have to change its name to 7tsp GUI v0.6 (2019) .exe, that is, change the extension to an .exe to be able to run it.


Run 7tsp GUI v0.6 (2019) .exe and click on Add Custom Pack:


Select the 7TSP Windows 10 Insider.7z icon pack that we renamed in the previous steps and then click on Start Patching


The program will create a restore point before applying the patch and installing the icons and the process will take more or less time because there are many icons.


During installation the shell and explorer will restart automatically so you won't really be able to do much with Windows during those minutes.


After restarting the system you will have your new icons perfectly installed.


This does not apply to the taskbar icons, if you also want to change those, you can follow these steps.