Get link

Facebook

Twitter

Pinterest

Email

Other Apps
Home automation has allowed us equip our home with intelligence, so that, currently, we have at our disposal from security cameras to smart bulbs through all kinds of sensors that warn us of any danger. In this sense, a simple device that can serve as a starting point to create a home automation ecosystem is a WiFi socket.
It is enough to connect it to a WiFi network to pair it with our mobile and insert it into a power outlet, and we can remote control on and off of any device that we connect to it: a router, the heater, the heater, a lamp ... Next, we review what must be taken into account when buying one and we compile the best models that exist on the market.
What to consider before buying a plug
As we said, smart plugs allow us, easily and remotely, supply or interrupt current to appliances that are plugged into them. How? Through the mobile, so that it is possible, for example, to turn on a light as a deterrent when we are away, activate the air conditioning or heating before arriving home, or start the coffee maker without getting out of bed.
In the market, there are multitude of proposals from different brands, but before acquiring a certain model, we must take into account a series of considerations:
Compatibility: smart plugs are controlled through an app, which in the vast majority of cases (if not all), is available for iOS and Android. However, not all models are compatible with all voice assistants, so if you intend to give it spoken commands, you should see if they offer support for Alexa, Siri and / or Google Assistant.




Connectivity: these devices usually connect via Wi-Fi in the 2.4 GHz band, so if you have a latest generation router with dual band (2.4 and 5 GHz) you must connect them to the Wi-Fi network with which they are compatible . And be careful, because there are some that only have bluetooth and can only be controlled within a range of 10 meters.




AmperageAlthough in most cases it is usually 10 amps, it is important to know the maximum amperage that the plugs support to ensure that your appliances and other devices are compatible with that intensity.



On a practical level, it is also important to consider whether they are suitable for indoor and outdoor use, and look at their dimensions, since they are usually bulky devices. And something fundamental: they all require an earth connection, very common in current homes, but not so much in older ones.
TP-Link Tapo P100
In addition to bulbs and security cameras, TP-Link's TAPO range includes several smart plugs that are controlled directly from the TAPO mobile app. This model allows you to program automatic switching on and off, as well as set a timer to disconnect electronic devices.
Supports voice commands through Alexa or the Google Assistant, and has an away mode that automatically turns lamps or other equipment on and off at different times to simulate someone is home.
TP-Link Tapo P100 - Mini-size WiFi Smart Plug to Control Your Device From Anywhere, No Hub Needed, Works with Amazon Alexa and Google Home, 1 Pack
SPC Clever Plug
Within SPC's home automation ecosystem, we have the Clever Plug smart plug, which, through the SPC IoT app, allows you to control household electrical appliances from your mobile. It supports both with Alexa and Google Assistant, as with IFTTT.
In addition to establishing rules such as automatic on and off at specific times, this plug monitor consumption data to optimize energy expenditure. It works with a 2.4 GHz WiFi connection.
SPC Clever Plug - Wi-Fi Smart Plug
Amazon Smart Plug
How could it be otherwise, this Amazon proposal works with Alexa, so it allows you to control any outlet with your voice. It does not require any drivers: to configure it, just connect it, open the app and start using it with your voice.
Among other functions, it offers the possibility of programming the automatic on and off of lights, coffee makers and any other device, or control them remotely when you are away from home. Of course, it needs a 2.4 GHz WiFi connection and can only be used indoors.
Amazon Smart Plug, Compatible with Alexa, Certified Device for People
Philips Hue Smart Plug
Within the Philips Hue catalog, we have this simple plug that connects to the mobile via Bluetooth or Zigbee (Hue bridge). It stands out especially for its wide compatibility with different ecosystems, since it can be used with Alexa, Google Home and Apple HomeKit.
It must be borne in mind, however, that does not integrate WiFi connectivity, so it can only be controlled in close proximity (indoors). If we want to activate or deactivate it outside our home and access more functionalities, it is necessary to purchase the Hue bridge that is sold separately.
Philips Hue Smart Plug Socket, with Bluetooth, Compatible with Alexa and Google Home
D-Link DSP-W115
The D-Link DSP-W115 connects via WiFi to your home or office router, giving you the ability to enable or disable it remotely. From your mobile app you can also to program the ignition of lamps or heaters to automatically turn on and off at the time you want.
In addition to working with Alexa and Google Assistant for voice control, it also supports IFTTT recipes to automate it with other compatible smart devices. Although it supports temperatures between 0 and 40ºC, it is designed for indoor use.
D-Link DSP-W115 - WiFi Smart Plug, Control From Mobile or Tablet Through Free App mydlink, ON / Off time programming, Compatible with Amazon Alexa and Google Home, IFTTT, White
Xiaomi Mi Smart Power Plug GMR4015GL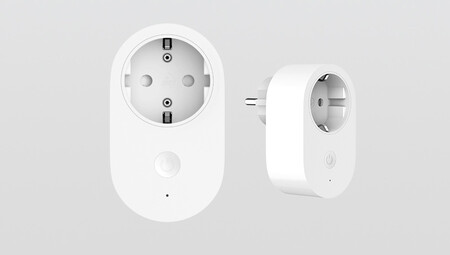 You just have to connect this Xiaomi smart plug to the WiFi network (2.4 GHz) and, through the Mi Home or Xiaomi Home App, you can create schedules to activate and deactivate your devices automatically. With absent mode You can turn the lights on and off at various times to simulate that there is someone in your home.
It has a safety shutter function to protect children and pets, and it has a built-in sensor that sends notifications and automatically cuts the power when the temperature is too high. It also supports voice control through Alexa and Google Assistant.
Ledvance Smart + WiFi Plug
Osram's home automation line includes several plugs with bluetooth, ZigBee technology or WiFi. Within the latter we find this model, which can be purchased Indoor (indoor) or Outdoor (outdoor) version.
In any case, by integrating WiFi connectivity, it allows remote control through the LEDVANCE SMART + WiFi app. Among other functions, it monitors the use of connected devices and track energy consumption. In addition, it supports voice control through Google Assistant or Alexa.
Ledvance SMART + Plug home, not relevant, Pack of 1
Get link

Facebook

Twitter

Pinterest

Email

Other Apps