As we already had the Netflix addon on Kodi a few days ago, one of the best features of the multimedia center is being very modular and flexible thanks to supporting them to expand their functionality. As we saw in the case of Netflix, there are advantages to using video platform addons in the application, and today we will tell you how to watch Disney + on Kodi, requiring active subscription to access.
We will win things like poder choose bitrate and resolution when watching Disney + content, a la YouTube, have 5.1 sound on PC, something that in our case the web does not allow, or have Atmos sound in the 2015 Nvidia Shield or Amazon Fire TV Stick 4K regardless of the resolution in which we set them. In addition, it is a good way to, for example, be able to capture content.
How to install the Disney + addon on Kodi
To watch Netflix on Kodi 18 or Kodi 19, the first thing we will have to do is install the Slyguay repository as a source. For this we will have to go to the Settings File Manager, and in it choose "Add source". In the new window that opens, we must enter the address of the repository, which is "http://k.slyguy.xyz/". We put the name Slyguy at the bottom and click on OK.
Later, in the main menu, we will have to go to Add-ons, located in the left bar, and once we enter, enter the icon reminiscent of the Dropbox box. Inside, we will have to go to Install from zip file. And as a source, there we will choose the "Slyguy" that we have created before. Once inside, only a zip file will appear, which is the repository. Once we select it, it will be installed.
With the repository installed, we will have to go again to the box icon similar to that of Dropbox, and choose the option Install from repository. When we choose "SlyGuy repository", Kodi will offer us to install addons for music, video, etc. By choosing video we will get to Disney +, but there are many others that can be interesting. We will have to click on the "Install" option, and from that moment We can now use the Disney + addon on the platform.
How to set up Disney + on Kodi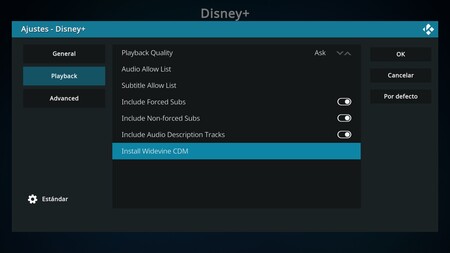 Once the addon is installed, Kodi will let us open Disney + or configure it. Although it can be done later, it is a good time to choose to configure in "Settings". It is advisable to go to the "Playback" section and click on "Install Widevine CDM", which in turn will lose us installing Inputstream Adaptative. With these two extra accessories We can watch 720p content on PC and up to 4K with H.265 codec on Android devices Widevine L1 certified, such as the Nvidia Shield, the Amazon Fire TV Stick 4K or the Xiaomi Mi Box S.
With that set up, we will simply have to log into the service with the credentials of an account with an active subscription. With the session started, we will see a classic Kodi interface, nothing reminiscent of the official Disney + applications.
However, we do have the rest of the Disney + options, such as Hubs where we will find content divided into Star Wars, Pixar, Star, Disney, etc. In the search engine it is easy to find content, although we will not have automatic ordering as we enter characters.
As in the case of the Netflix addon, Disney + playback is smooth and easy to fast forward and rewind without buffer. In the case of the Mac where we are testing it for this article, the resolution is limited to 720p, like non-Safari browsers. However, there are advantages such as being able to choose the soundtrack with Dolby Digital +.
If we use the addon from an Nvidia Shield or from a Fire Stick 4K, which in our case They do not get Dolby Atmos in their official applications when configured on a 1080p television, Kodi will let us play an Atmos track in Dolby Digital Plus whenever it is available (generally, only in English), something we can try in 'Hamilton', for example.
Being able to choose bitrate is another advantage of the addon, since a lower quality may come in handy on a poor connection or connected to a WiFi point that uses mobile data, or on a smartphone if we use Kodi on it. A good thing is that with Kodi 19 you can also customize the subtitles, and I like the options available here more than the customization of Disney + in its interface.