Get link

Facebook

Twitter

Pinterest

Email

Other Apps
There may be different reasons why you have to reinstall your Windows 10. It is a very useful function of this operating system especially if it is giving you performance problems. Formatting the computer and restoring Windows is a very common practice since this operating system appeared in our lives.
It is so normal that Microsoft itself basically decided to include the function within Windows 10. This option to reset the computer in Windows 10 can help you solve many problems on your computer by returning Windows to its original state, as newly installed. The question that always arises is: how do I not lose anything?
By the way, before you start to know how to reinstall the software without losing anything, you must remember that you should not confuse this function of resetting with that of restoring Windows, which is a way to go back to a previous point before having made a change in the system that caused problems. Resetting Windows 10 is reinstalling the system.
Windows 10 makes it easier than any other version
Something very important that you should know is that reinstalling Windows 10 keeping your personal files on your computer is much easier than ever before. The steps that you must carry out are:
Open Windows 10 "Settings". To do this, go to the start button, for sale located at the bottom left of the screen. Click on it and then click on the wheel located on the button to turn the PC on or off.


Select "Update and security". This will take you to a page with your Windows 10 options. Choose the update and security option. It is the last of the available functions.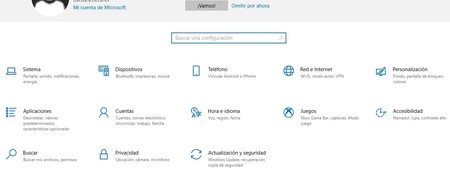 Choose the "Recovery" option. When accessing, you have different options such as "pause the update for seven days", "change active hours" or check for updates ", among others. On the left of the screen there are other options such as Windows Update, backup, activation ... and the sixth option is "restore".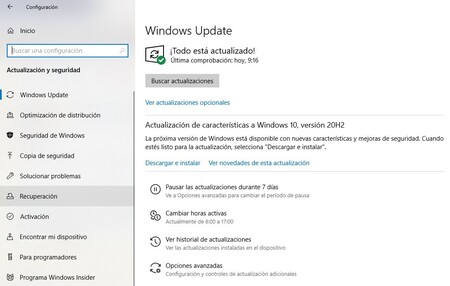 In the option "Reset this PC" you have to click on "Start". It's at the top of this screen. And the same people in charge of Windows 10 say that "if the computer does not run correctly, resetting it can help. With this option you can choose to keep your personal files or delete them and then restore Windows."


Choose the option to keep the files. When you agree to start a new window will appear, where you can choose if you want to keep the files or if you prefer to remove all personal files, applications and settings. In the first option, your settings and applications will be removed, but it keeps your personal files.


Behind this, start the process of reinstalling Windows 10 but respecting your files. Keep your equipment plugged into the power because it cannot be turned off during this process for it to be carried out correctly.

When the Microsoft operating system is reinstalled, you will need to take care of re-downloading the apps you use and also the configuration you prefer for your computer.
Do not forget that a few days ago, Microsoft anticipated that the Windows 10 spring update, which is just around the corner, and to prepare our teams before the arrival of the long-awaited version 21H1, Microsoft has released a mandatory patch for all systems.
The KB4023057 update includes a series of "Windows Update reliability improvements" for all versions of Windows 10 from 1507 to 20H2. Patch vComes to deal with a number of issues that could prevent future important updates from being installed and adds various enhancements to the installation process of the same after being applied.
Get link

Facebook

Twitter

Pinterest

Email

Other Apps