First of all, it is important to remember what Windows Movie Maker is and what it is for. Is a application that Windows released in 2000 to allow users to edit and view their videos with a very simple interface. The tool became very popular over the years, as it was very easy to use. However, in 2017, Redmond decided to say goodbye to Movie Maker and abandon its development.
Remember that Windows 10 has its own video editor. And no, it's not Windows Movie Maker, nor is it the Movies & TV app. The Video editing app built into Windows 10 is the 'Video Editor', and it can be accessed from the Photos feature where there is a special button for video. This low visibility of the videos function, along with user complaints that Photos is a slow-performing program, leads to people still nostalgic for Movie Maker.
The most recommended site to download Movie Maker
Microsoft says on its official website that Windows Movie Maker, part of Windows Essentials 2012, is no longer available for download. The websites that offer free Movie Maker downloads they do not provide the authentic program and may include some type of malicious software.
With this warning from the Redmond giant we are going to take a look at this option available for those nostalgic for Movie Maker: Internet Archive, that portal that, in addition to having two million free books already available to the world, also stores old versions of web pages and applications, movies or music.
This is one recognized virtual library which guarantees that the program you download from it will not be infected. Now the steps to follow for its installation are these:
Windows Movie Maker is a program for the 2012 version of Windows Live Essentials so you must access the [página específca de este software](the 2012 version of Windows Live Essentials) within the Internet Archive. On the right it gives you different download options "download options". Either one (Torrent or Windows Executable) is valid. Save the file and allow it to download to your Windows 10 computer.


Go to the downloads and click on the icon that you just downloaded and give it the permissions to run. When you do, it will tell you if you want to download all of Windows Live Essentials 2012 or just the programs you want to choose. Keep in mind that the complete pack contains: Photo Gallery, Movie Maker, Mail, Writer, OneDrive and a Messenger that, according to Archive.org, is no longer functional. If you only want the Movie Maker or one of these, select the second option. Photo Gallery and Movie Maker are part of the same pack so you will also have the photo program after downloading. Remove the tik from all the others and proceed to download. This process will take more or less depending on the speed of your Internet. Probably a few minutes.


It is possible that, at the end of the download, you will receive a notification of an error. "Couldn't install programs". Don't worry, it is common.


As you can see in this illustration of Engadget Basics, this installation error does not always mean that the application has not been installed correctly, as it may be due to compatibility or that it is outdated software. To check if it has been downloaded, you must go to the menu and look for the program. It may be that, despite this notification, you have it there. Run the shortcut. The license agreement should appear and you must accept it.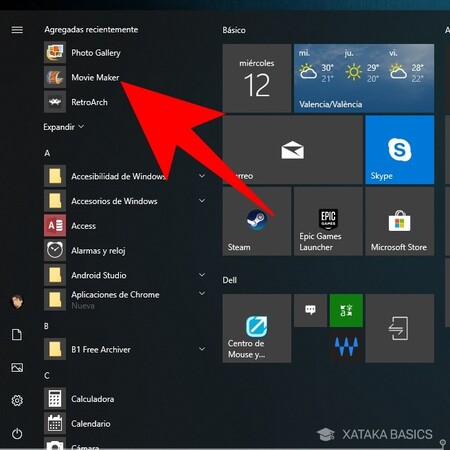 With all this and if everything has gone as it should, you can start (or start over) using your Movie Maker.