Last January, Twitter bought Revue, a tool to send newsletters or newsletters, something that more and more companies, content creators in general and other organizations do to attract the attention of customers, followers or collaborators or to inform them of something in a more personal way. Just a few weeks after the purchase, the social network integrated this new function for its users.
If you want to find it, You must go to the "More options" tab located on the left of the main page and access the "Newsletters" or "Newsletters" function. (for those who have their profile configured in English). In this way, quite discreet, Twitter entered a market that is gaining popularity among email marketing, and that is the sending of newsletters. And so it went on to compete with Mailchimp, the most popular tool for this purpose, and with other platforms that have appeared in recent years.
Why I decided to quit Mailchimp, after using it for a year, for Revue (new to Twitter)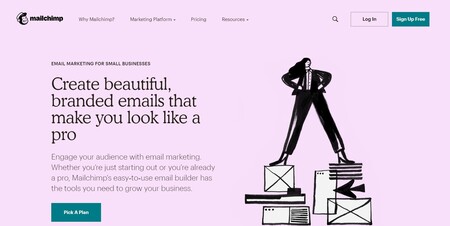 In 2020 I started using Mailchimp. I am part of a collective for which ** it is positive to keep its collaborators informed of their activity in a detailed and more personalized way **, with a different approach than that given in social media publications. When we started to send out these detailed newsletters we used the mail. When our activity and also the people interested in knowing more about the group began to grow, so did the need to use a specific tool for this activity and we chose Mailchimp for being the best known.
Your publisher it never seemed really simple or intuitive to us. It is based on blocks, just like the latest editions of Wordpress have integrated, while we felt that a flatter text was simpler, in the style of traditional Wordpress. In the case of blocks, if you press "enter" a new block is created even if you want to continue in the one that already exists. If you want to stay in the same block, you have to press CTRL + "enter" to change the line, as is done in Excel.
The free feature is very basic, although it does include a few templates to choose from. Even so, it was useful for us once every four months or on emergency occasions, to send information and get it to hundreds of people at the same time.
Our collective has grown a lot in recent months and, with it, the list of people who have given us their email to receive notifications. A few days ago when we updated the more than a thousand contacts that they have shown us their interest by different means in obtaining these newsletters, we got this message from Mailchimp on top of a newsletter that had already been designed and was ready to send:
In other words, the shipment had been paused because there are conflicts in the account that must be resolved. The conflict is that with more than 2,000 subscribers you have to pay. The option to pay it does not appear here, where they only show you that "there is a conflict"Instead, you must find out where the option to pay is located. It's these little details that base our ongoing complaints at Mailchimp that it's not a really intuitive service.
If you are going to an account, after clicking on the circle with the initial of your name in the lower left corner and then you access Billing and on this page you click "change plan" you will be able to get to know the rates (which when you go to pay tells you that they are increased by paying taxes). There are two options: a monthly payment or a few credits to use as needed. The monthly payment is not clear if it can be stopped within a year.
This lack of clear information led us to go look at the operation of Revue. The first thing is that it is free for the same number of subscribers that Mailchimp wanted to charge us (in this case about 3,000). And that although the design options they offer are very simple, they are much more intuitive and easy to use when creating a newsletter in a few minutes than within Mailchimp.
How to get your contacts to Revue from Mailchimp
One of the most precious assets when you want to send a newsletter is that of people who at some point have indicated their interest in receiving them. The best that Mailchimp has is that if you put the same email address more than once, deletes those copies and thus you do not send the same information more than once to the same contact, which can be harmful (nobody wants a saturated email).
First, to register in Revue you can do so by including your email and adding a password or you can do it through twitter, a process that is very fast and that, in addition, will lead to that, when you send future newsletters, these will be added automatically to your Twitter profile.
When accessing Revue, at the top you have several options. Choose "Subscribers", click on that word and you access a website where you can upload the contacts. Press on the orange button located on the right of the page and that indicates that it is to add subscribers. You can import them from Mailchimp, import them from a document, or include them manually. The option to import from Mailchimp will force you to connect both tools.
Import contacts from Mailchimp without connecting both tools
If you do not want to share information between both applications or you get an error (which is what happened to us), you have another option. First download your contacts from Mailchimp. To do this, follow these steps:
Go to the main page (where you have the options to create or manage newsletters, manage your contacts, search for designs and more). Click on the second option, after the face of the brand's characteristic monkey, where it says "audience". Within audience, in the yellow box choose the option "audience Dashboard".


You enter a new page where it tells you the number of contacts you have added. To the right of this are two rectangular squares. One says "View contacts" and another says "Manage contacts". Click on View contacts and you will go to a page with the list of subscribers. Descend on that page and you will see, before the list of mails, the option of "export audience".


On the new page that it takes you to, go down and to the right you will see a box that says "Export as a CSV". Click on it. A pop-up window will appear where you can choose to either open the file or save it. It will be saved in a .zip document that, when accessed, will be an Excel.


Now already you have your contacts in a document and you need to upload them to Revue. You just have to follow the steps mentioned above in Revue and in the "add subscribers" option choose to upload them from a document.
How to create your newsletter with Revue
When you import your contacts, you first need to wait a while for Revue to accept those contacts. Probably by the Data Protection Law that governs private information in Europe, The app asks you, after the import process, where did you get those contacts from?.
Remember that You cannot have taken those emails without the consent of the people. They have or must have given it directly to you or through a service that your clients or users use, where they can leave their email and where the service itself provides information related to data protection. Revue will take a while (ensures less than 24 hours) until it accepts (or not) imported contacts as valid.
Now we start with the design. Remember that the template it offers is very simple (that complicates if, for example, you want to include columns to put two languages). When accessing the design ("create" tab) the first thing the tool asks for is start by choosing a topic for the newsletter you are going to send. At the beginning there is a title that says "Weekly newsletter of (name of your profile) - Issue # 1".
Below is the option to put a text. At the bottom, in the interface of that newsletter there are different options: you can include an H1 (this is another title), a text, a link, videos, images or tweets in the body of the message.
By selecting one of those options, it will appear as a new exclusive module for what you have chosen. If you decide later better not to use that module, you just have to put the mouse over it and wait for two squares to appear on the left. In all three points, pressing gives you the option to "remove item", that is, remove that module. Earlier we mentioned how Mailchimp is divided into boxes. Something similar happens here but they are not changed by simply pressing enter, but you have to choose it intentionally.
There are also arrows pointing in 4 different directions. By clicking on these arrows you can choose where to place the module within the newsletter. What's more, if you place the mouse between two modules, the aforementioned options will also appear and you can click on one of them to create a new module. This speeds up the process, since it avoids the need to go down the web to get to those options below.
In the "Insights" section, you can see the impact of these newsletters after they are sent. On the one hand, they show you what percentage of the people who have received the newsletter have opened it and what percentage of them have entered the attached links within the newsletter. Other information is how many more people join the campaigns and how many decide to unsubscribe so as not to receive the newsltter again.