Get link

Facebook

Twitter

Pinterest

Email

Other Apps
When was the last time that, wanting to listen to music while browsing, you got up to look for a CD or you started looking for the link to download a complete album?
The truth is that (almost) nobody does that anymore: music and video streaming platforms (such as Spotify and YouTube) have become our daily music library, and we turn to them every time we want to hear a song.
MP3 is better in hand than streaming in the air
But in some cases, perhaps because we are going to be traveling and without access to a decent connection, that is not an option, and we prefer to be able to save some of those songs on our own device.
Spotify allows you to store songs offline if you are a paying user, but if you are not or if you simply prefer to have more options when playing your files, the natural option will be to download the music from YouTube.
But of course YouTube is a video portal, how can we easily separate audio tracks and download them, for example, in MP3 (much better option than video when it comes to storing a lot of music)?
Well, there are several applications that can be useful in this task:
aTube Catcher (Windows)
One of the most popular and complete YouTube to MP3 converters. In fact, not only from YouTube: aTube Catcher is also capable of working with videos from Dailymotion, Vimeo, Metacafe, 123video, Yahoo, Facebook, Twitter and others.
In fact, its main and original function is to download videos; audio extraction, or the conversion between video formats, not to mention the capture of video and audio, or the creation of DVD's, were added later.
When we install it, an icon will also be created on our desktop called 'Music Search MP3', from where we can search and download songs hosted on YouTube in MP3 ... without having to open the video portal in the browser.
4K Video Downloader (Windows, macOS, Linux)
Another of the most popular options to convert YouTube videos (or Vimeo, Facebook, Dailymotion, Flickr, Instagram or Metacafe) to MP3 is 4K Video Downloader. Like the previous one, the extraction of audio (not only to MP3, but also to OGG format) is just one of the many functions included in the program.
In this case, we are facing a freemium program: although what interests us in this case, such as the conversion to audio, is an entirely free function, other options such as downloading subtitles or channels are limited in one way or another for non-premium users.
ClipConverter (Web)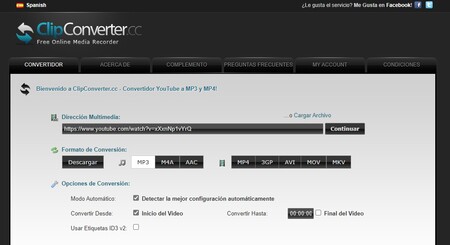 ClipConverter is a web application that allows you to convert multiple audio and video formats with each other, either by loading them from our computer or from a URL, including YouTube addresses.
To obtain our audio file, we just have to select 'MP3' as download format, and click on 'Download'.
Although a particularity of this tool is that gives us the option to select a specific fragment of the video, allowing one that contains several songs to be used as a source video, or to dispense with spoken fragments at the beginning or end of them.
2Converter (Web)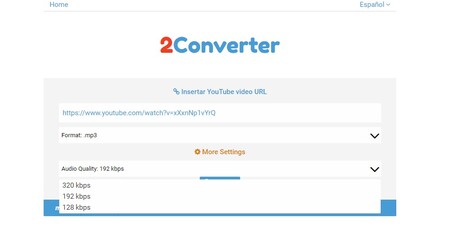 2Converter is a simple YouTube to MP3 / MP4 converter. We just have to select the desired destination format, click on 'More Settings' and choose the level of audio quality we want (between 128 and 320 kbps).
Get link

Facebook

Twitter

Pinterest

Email

Other Apps