Video has become not only one of the most consumed types of content, but one that is very easy to expose. With all the social networks that let you share videos, and platforms like YouTube, anyone with enough motivation and dedication can start producing your own videos.
If you are starting to test the waters and you are looking for a tool that helps you do the job but is not very expensive or preferably free, we are going to recommend more than a dozen of free video editors for Windows and also to use online for which you do not have to pay anything. If you prefer to edit from mobile, these are the best video editors for Android.
Lightworks
Lightworks is a cross-platform video editor with all the necessary functions to produce your content. Although it is a paid software, has a free version with all the functions, the only limitation is that the video export formats do not include 4K or UHD. If you want to learn how to use it, they have many tutorials.
OpenShot
OpenShot is a free and open source video editor which is also extremely simple. It is also cross-platform and lets you add as many tracks as you need, trim, add animations and effects, and much more.
AVS
AVS Video Editor is a free video editing program for Windows. It has all the basic functions: trim, divide, combine, rotate, mix videos, apply effects, add menus, audio, subtitles, etc. It is similar to Windows Movie Maker it is appearance and simplicity.
Powtoon
Powtoon is an interesting online solution to edit videos easily. The free plan lets you use multiple songs and styles that don't need to pay royalties, but it can only hold 100MB and your videos can't be longer than 5 minutes. Depending on what you don't need it for, it can be a good option.
Filmora
Filmora is an excellent video editor for Windows and macOS with a beautiful and modern interfaceIt is also easier to use than other complex editors. Filmora is paid, but the trial version allows you to use the software with all its functions without limitations, the only condition is that they will have a watermark unless you pay for the license.
Avidemuz
Avidemux is a free, open source and cross-platform video editor. It is one of the best known in the Linux community, but it has versions for Windows and macOS. It is quite simple and easy to use as it only has quite basic functions.
Kdenlive
Kdenlive is another well-known editor among Linux users as it has always been hand in hand with distributions that use KDE, but it also has a version for Windows and one for Mac. Of course it is free and open source and has multiple advanced functions. It has a good instruction manual.
Blender
Blender is another well-known one in the open source community, and although it is mainly because it is one of the most famous 3D animation software on Linux, Blender also allows video editing. It has the most basic functions and also some more complex ones.
VSDC
VSDC is a free, non-linear video editor with video and audio conversion tools and disc burning options. It lets you add visual and sound effects and is quite easy to use. It also looks a bit like Windows Movie Maker.
ivsEdits
ivsEdits is a non-linear, flexible and modular video editor with support for high resolutions such as 4K. They are a Vimeo partner, so if you work with that platform they let you upload your videos directly in a simple way. The free version has very few limitations, but you must register to download the program.
Shotcut
Shotcut is another free, open source and multiplatform video editor with wide support for video formats, visual effects, 4K support, and a very friendly interface compared to other options.
WeVideo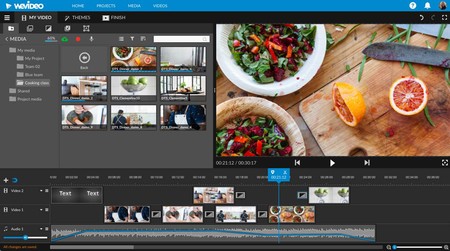 WeVideo is an online video editing platform that offers multiple images, audio and video clips to combine, add effects and create whatever you want in a simple way. Although it is paid, it is possible to use a free account with a maximum of 1 GB of storage, videos in 480p resolution, and up to 22 songs from the music library.
Bonus: VLMC
VideoLAN Movie Creator is the video editor from the creators of VLC. However, it is not yet available even for beta testing, but the source code can be viewed online. And, you already know that the project exists so that you are aware of its arrival.
Like the famous player, it will be free, multiplatform and open source. VLMC is a non-linear video editor that will support almost any format as you would expect, and it has most of the basic editing functions.