It is inevitable that the mobile space will end up filling up over time: the space is the same, but we have more and more applications, photos and videos on the mobile. The solution is the same today as it was in the early days of Android: free up space on your mobile.
What has changed is the way of doing it, because if a few years ago we entrusted the task to apps like Clean Master (may he rest in peace), today we prefer to avoid such lying applications. It is difficult to distinguish grain from chaff in applications to free up space, so here we have selected 7 legit space-saving apps that work.
SD Maid
SD Maid is a veteran application that could be defined as a serious Clean Master without countless ads and buttons everywhere. That is, it specializes in look for traces of uninstalled apps in mobile storage.
SD Maid allows you to eliminate waste, unnecessary files from the system, clear the application cache, optimize databases, analyze where the storage space is going and find duplicate files. To get all the juice, yes, it is necessary to buy the Pro version, which costs 2.8 euros.
SD Maid - System Cleaning
Developer: darken
Download it at: Google play
Price: Free
Category: Tools
Google Files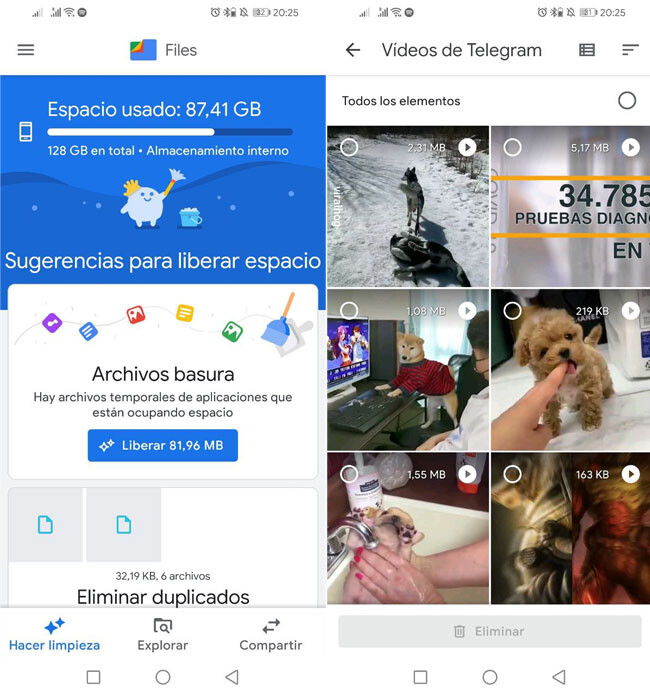 A less sober option is Google Files, a file manager that doubles as an application to free up space. Google Files has a interface similar to how applications normally are to free up space, but not including incessant advertisements or trying to get your attention by finding problems everywhere.
In the field of cleaning, with Google Files you can easily delete memes and videos from apps like Wombo easily, as well as downloaded files or review large files that you have on your mobile, as well as applications that you don't use much and that you might be interested in uninstalling.
Files by Google: Free up space on your phone
CCleaner
CCleaner is one of the most famous cleaning applications in its PC version and, although the mobile version never had such an impact, it is still a big toolbox with everything you need to free up space on your mobile.
You will find the basics, such as clearing caches and various useless files, as well as other more specific functions such as the analysis of your photos and videos in search for blurry or poor quality photos, with the option to compress photos so they take up less space.
CCleaner - Mobile Cleaner, Optimizer
Google play
Google Play is not a cleaner app, but the function of storage management it can make a big difference in the amount of available space you have on your mobile. After all, it is the easiest way to uninstall many apps at the same time.
Since My apps and games> Installed> Storage, you'll see the applications you have installed and how much they occupy, sorted according to the uninstall recommendation from when you last opened it. Other cleaning apps offer you a similar function, although the advantage is that in this way you do not need to give permission to other apps so that they know which applications you use on your mobile.
Whatsapp
WhatsApp is not a cleaning application either, although for many people it becomes over time a veritable bottomless pit of storage, collecting megabytes of photos and videosespecially if you are in a lot of groups.
Fortunately, WhatsApp recently incorporated a tool to manage its storage in which you can quickly locate photos and videos that have been forwarded many times (memes and funny videos in many cases), as well as oversized videos and the like.
Whatsapp
Panda Video Compressor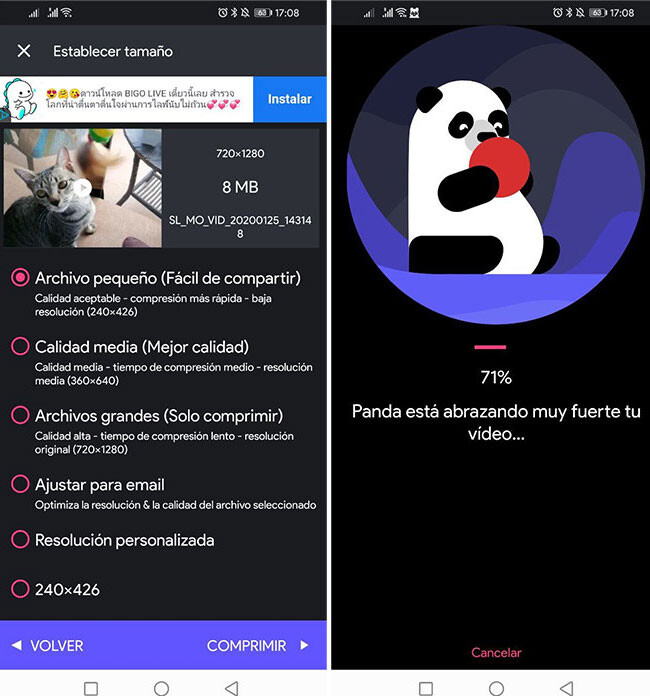 In some cases you may be interested in the middle ground: neither delete completely nor keep a file as such. In the videos, this is embodied in the idea of compress videos to take up less space. If you have a lot of videos on your mobile and you don't mind too much that they lose quality, this option can be very useful.
A good application to easily compress videos is Panda Video Compressor, with which you can choose between different compression qualities and, optionally, replace the original video with another compressed one that takes up less space.
Reduce Video Size - Panda Video Compressor
M4A Audio Converter
Just as you can compress your videos to save space, you can also compress your musicIf you're old-school and keep taking your favorite MP3s with you, instead of using a streaming music app like Spotify.
You can lower the quality of an MP3 directly from your mobile with M4A Audio Converter. Its usability can be improved, but it has everything you need to significantly reduce the size of a song and that it still sounds reasonably good. You put the limit on their settings.
M4A Audio Compressor (Free)
Developer: btxdev
Download it at: Google play
Price: Free
Category: Music and audio