At Genbeta we are constantly recommending all kinds of useful applications and websites for different needs. However, not everything in life has to have a great purpose or reason for being, and less on the internet, where wasting time is a big part of their nature.
If for any reason you want to turn off your brain a little, watching nonsense on the web, procrastinating, or relieving the stress of sitting in front of the computer working all day, these completely useless websites can entertain you for a long time.
Procatinator
We start with some cats, because welcome to the Internet. Procatinator is an absolutely ridiculous website where they show you a random cat GIF next to a song that seems to be perfectly in sync. I am a Fan.
Do nothing for 2 minutes
An image, a two-minute timer. At donothingfor2minutes.com the idea is open the tab and it does nothing for two minutes. If you touch the keyboard or mouse, the timer resets. Perhaps it will serve as an exercise to disconnect for a little moment.
WebGL Fluid Simulation
This webapp is extremely relaxing. It is a "fluid simulator". The screen shows you a black canvas and when you drag the mouse pointer over it, you will start to move virtual fluid. You can adjust multiple parameters such as pressure, viscosity, speed, etc.
FFFFidget
A web to turn a fidget spinner. That's it: ffffidget.com
Cat bounce
Cats bouncing on the screen. You can drag or launch them with the mouse. Bonus: rain of cats. Cat-bounce.com.
FreddieMeter
Many of us often wonder how bad we sing and FreddieMeter comes to give you a somewhat strange answer. Tells you how much your voice is like Freddie Mercury's, the late Queen vocalist. It gives you several songs from the band to choose from and then you just have to record your great performance.
Your Word in Candy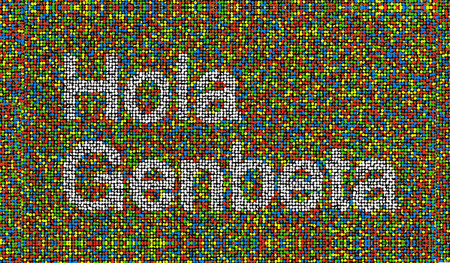 A website that turn any image or word into a 3D candy animation. Completely ridiculous and unnecessary, but fun: www.candyjapan.com.
YouTube Decade
On YouTube Decade they take you to take a trip back in time watching the most popular videos on YouTube exactly 10 years ago. Every day the web is updated with a new batch of the most viewed videos exactly 10 years ago.
ASCII Art Converter
An unnecessary but great tool. Ascii Art Converter lets you convert any image into a work of art made automatically with Ascii characters.
LangoRhythm
This is a website that will be useless for most, but maybe someone out there can create something great with it. Either way, trying it is more than fun. In langoRhythm you can turn the text you write into music.
Random Street View
If you like to explore things out of curiosity, if you can't get out of the house because of the coronavirus, or you're poor and haven't gone on vacation in years, randomstreetview.com offers you a break. It is a website that takes you to a random spot on Google Street View in seconds. It is a virtual journey in each refresh of the page. It has great potential to increase procrastination.
Retro tv
This is not one but three websites, although they are the same, the decade of each changes. On My 70's TV, My 80's TV, and My 90's TV you will find broadcasts of music, television, documentaries, news, commercials, and all kinds of shows from those times.
Soundscape
Soundscape is a great webapp that lets you create your own beats from various presets. He calls himself a "immersive music visualizer", and basically it generates infinite music. There are many combinations to play and they all sound great.
Draw on this website
Draw on this website is a community whiteboard where you can draw in real time with the rest of the Internet. Anyone can add whatever they want and it will be visible to everyone for five minutes. Although you can buy permanent ink for less than 1 euro.
Amazon Dating
Amazon Dating is an absolutely ridiculous website created as a joke. It's a concept that imagines what Amazon would be like if it sold quotes. The web leaves you buy pair with free Prime delivery, and of course, then it's time to leave a review explaining your level of satisfaction.
Eyep
This one isn't so useless if you don't know another way to find your IP, but it does little else. Except Eyep looks pretty pretty and minimal.
The deep sea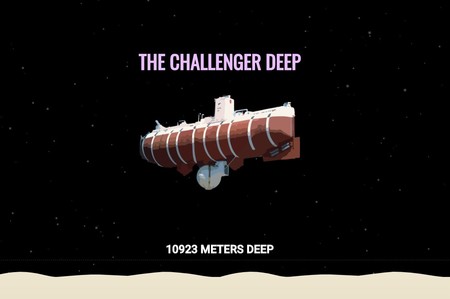 This is not so useless because you learn something along the way, if you can remember it. The Deep Sea is a journey through the depths of the sea in which you discover the strange creatures that live in it as you dive deeper by scrolling. It is extremely interesting and easily swallows a few minutes of your day.
User Inyerface
If you not only want to waste time but you want to get a little frustrated, in User Inyerface they put you through an experiment: they make you suffer with the worst possible design at the same time that you learn what not to do when designing user interfaces. It is a diabolical page.
Cartoonify
This is another extremely ridiculous website. I say this because your goal is turn any photo into a drawing, but the work is in charge of an artificial intelligence that would hardly serve as a companion in Pictionary. The results are as bad as they are hilarious. Visit: cartoonify.
Year of Color
This website tells you the color palette that dominates your Instagram. You just have to log in with your social network account for YearofColour to analyze it and then you will see an interactive graph with the colors that most predominate in your photos during the year.
Permanent Redirect
Another exceptionally useless site. It is more of an experiment, because change url every time someone visits it, so you decide how long you want to try to find the current address: Permanent Redirect.
The Magic Button
Finally, the solution to all the world's problems. A button on the Internet that will make everything okay: make-everything-ok.com. We said they were useless websites.