Get link

Facebook

Twitter

Pinterest

Email

Other Apps
We stopped knowing Kodi years ago as XBMC, but even when it bore that name it had already become one of the most popular and complete multimedia centers that we could download on different platforms, and still is, only even better.
Today Kodi is available for Windows, Linux, macOS, Android, iOS, Raspberry Pi, and even BSD. You can install the application on almost any device to manage all your multimedia content, be it videos, music, images, radio, and even for streaming thanks to a myriad of accessories. If you don't know how it works or how to use kodi, we explain.

Kodi is a free and open source application maintained by volunteers and donations. The official version does not include any type of multimedia content, only the options for you to manage your own. That content can come from your disc, from a remote location, a DVD, a Blu-ray, a cloud service, etc.
Its most recent version is Kodi 19 Matrix, and it came with support for AV1, HDR10 and dynamic Dolby Vision.
How to install and configure Kodi
Kodi installation is extremely simple, you just have to go to the download page and choose your platform. If you use macOS just download the available installer and run the package.
If you use Windows you have two options- The classic installer or Kodi version in the Microsoft store. Both versions are the same, choose the one you prefer.
Y, if you use Linux you will need to open the terminal and write the following commands:
sudo apt-get install software-properties-common
sudo add-apt-repository ppa:team-xbmc/ppa
sudo apt-get update
sudo apt-get install kodi
Basic configuration
When you start Kodi for the first time you should take a couple of things into account: the first is that you will not have any content, and the second is that it will be in English. Both things are easily fixed. As well remember that Kodi runs in full screen.
To have Kodi in Spanish just click the nut button to go to settings:
When the menu with the different system options that you can adjust is presented, click on Interface settings:
The following is to move the mouse pointer over the option Regional that appears in the menu on the left, and when you see the option Language on the right side, click on it to change to Spanish.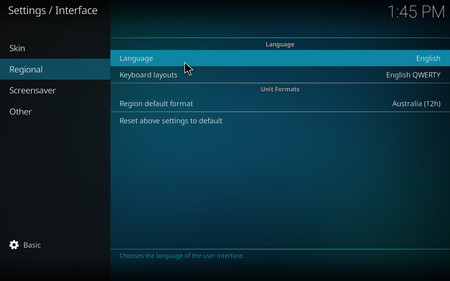 Once you have chosen a new language the interface will change automatically, you do not have to restart the program or anything. You can also take advantage of that same screen and change the type of regional format.
Add content to Kodi
At first your collection will be empty, so you should enter the Files section to add a source folder from where Kodi will search for movies, music, series, etc., to add to your multimedia center.
Depending on the type of content, simply choose an option from the list on the right. We will choose Videos for this example. The next thing is to click on Records and once in the list of files, click on Add videos ...
Then you have to add a video source, that is, the folder or location from where Kodi will seek to index your content. You can click on Look for, and start browsing your disk until you find the folder where you have the videos and choose it.
You can also choose a name for the content source and press OK to go to the next thing. Set content.
In this part you have several options, such as defining whether it is series, movies or video clips, in addition to choosing an information provider, that is, the one that put the names, description and covers in the media center.
When you are ready press OK and Kodi will start indexing. Then you can add more video sources following the same steps. Now when you go to the section you will see the indexed videos appear in the list.
This same process is the same to create your library of images, music, series, video clips, etc.
Install add-ons on Kodi
To do things like watch YouTube videos on Kodi or listen to the radio, you will need to install plugins. The list of add-ons for Kodi is huge, and there are communities that are dedicated only to gathering addons for Kodi, like TVAddons.
One of the easiest to install is YouTube, just click on the search button at the top and left of the main screen and then in the pop-up window click on "Search YouTube.
This will make Kodi ask you if you want to install the YouTube Addon and when you choose yes, it will guide you through the process automatically. Now when hovering the mouse over the section Add-ons In the left menu you will see the YouTube logo in the list of video addons.
When you are ready you can connect your Google account to see your subscriptions, popularity lists, recommendations, history, playlists, channels, or do any search.
For install a new addon you just have to click on the Add-ons menu and choose the type from the list. If it is music, video, images, etc. The amount available is huge, you just have to bear in mind that many are from third-party services that you can use only with your credentials from that provider.
This is just a pretty basic guide for you to give a global idea of ​​what you can do with Kodi and that it has almost infinite possibilities to enjoy all kinds of multimedia content.
Get link

Facebook

Twitter

Pinterest

Email

Other Apps