If you are looking for an alternative to the WhatsApp alternative, try Delta Chat.
WhatsApp is undoubtedly the most important instant messaging app in the world and this despite the appearance of powerful alternatives such as Telegram or Signal. These last two tools have been put on everyone's lips and it is that WhatsApp announced a change in its conditions and terms that no one really liked, so it was even necessary to back down.
But neither Telegram nor Signal are the only valid alternatives to the Facebook service. Delta Chat is another communication app that is gaining many followers these weeks and it is that among its main characteristics, is to preserve the security and privacy of its users, something that WhatsApp unfortunately cannot boast of.
But, How does Delta Chat work? Why has it become so popular? Pocketnow gives us several keys to its success.
1. You only need an email to register
Having an account in Delta Chat is as simple as having an email. And since the safest thing is that we want to install it on an Android or iOS smartphone and to use these devices you need an email account, well white and in a bottle.
Delta is actually like an email app but with the interface of an instant messaging app. So in reality you will not be creating an account in the umpteenth "WhatsApp Killer" but using your own email to send instant messages.
2. You do not need to give your phone number to use Delta
One of the positive points of Telegram with respect to WhatsApp is that to talk with other users it is not necessary to give them our phone number, giving our conversations extra security. Now, to create an account with Telegram it is necessary to register with our phone number.
With Delta Chat this does not happen. As we have said before, to use it you only need an email account. A greater abundance, to communicate with our contacts you only need to know their email address.
3. Does not depend on external servers
How many times have WhatsApp servers crashed leaving millions of users unable to communicate? Basically all messaging apps depend on their own servers, so if these for whatever reason stop working, everyone is unable to use the app in question.
The advantage of Delta is that since it works like an email client, it depends on the IMAP / SMTP configuration of each one, so if it fails, only a single user will be affected and not the entire community.
4. More control over SPAM
On more than one occasion you will have received messages on WhatsApp from unknown numbers. With Delta, controlling SPAM is much easier since like many email clients, it has several options to protect itself from unwanted messages.
On the one hand, we can block any message whose origin is not the Delta app. On the other hand, we can also add filters so that any message that contains those words, is blocked instantly.
5. Multiple accounts
One of the questions most asked by WhatsApp users is about the possibility of having several accounts in the same app. Well no, you can not at least with the official application and to achieve this you have to do certain tricks and tricks that honestly, sometimes are not worth doing.
Delta Chat allows you to have several accounts and switch between them simply and quickly. In this way we could have a personal account, another for work and even another for any other situation.
Delta Chat: the best alternative to Signal and WhatsApp?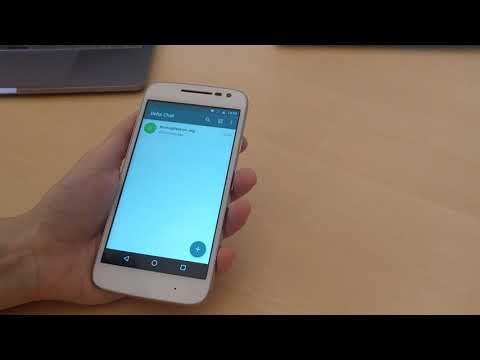 The developers of Delta Chat define this app as a young service but with a lot of potential to offer. It does not intend to revolutionize technology but it does correct the main errors of apps such as WhatsApp, Signal or Telegram. Privacy, security, greater control of our data ... only the user will know the messages he sends and no one else.
Despite the fact that it has many "benefits" such as encrypted messages, messages that are deleted over time, as well as voice messages, emojis, the ability to attach documents or share the user's location, This does not mean that Delta Chat does not have much to improve.
WhatsApp Plus in 2021: how to download on Android
Is it therefore the best alternative to Signal, which in turn was the best alternative to WhatsApp? Obviously it is a messaging application that must be taken into account, not only because of its proper functioning but also for the privacy it provides to its users. However, it is useless to be a great tool if it does not have a large user base, something that for now, it does have WhatsApp that continues to reign and all this despite not being the best messaging application by far.
Delta Chat is completely free and it can be download for devices like Android, iOS, macOS or Windows