With Android 12 that should be just around the corner, new details about the new version of the operating system do not stop blooming. In addition to knowing the possible way of a hand and even its secret dessert, many others possible new features of Android 12 have come to light.
It remains to be seen how many of them end up materializing, although for the moment the leaks are promising. If all are fulfilled, we would be before one of the biggest changes in Android in its interface, plus many other changes. XDA has compiled a list of seven more news that could come with Android 12.
Design with the latest from Material Design
Android 12 isn't official yet even as a developer beta, but the leaks are escalating. One of these leaks tells us about a mention of "Material NEXT", which may not be the final name, but a preview that Google has in mind renew Material Design once again. The last major Material Design revamp came from Material Theming in 2018.

We could see a preview of this redesign in the leaks a few days ago, with an interface with a custom theme (in theory called Silky), with new shapes, a lower density of elements on the screen and a new conversations widget.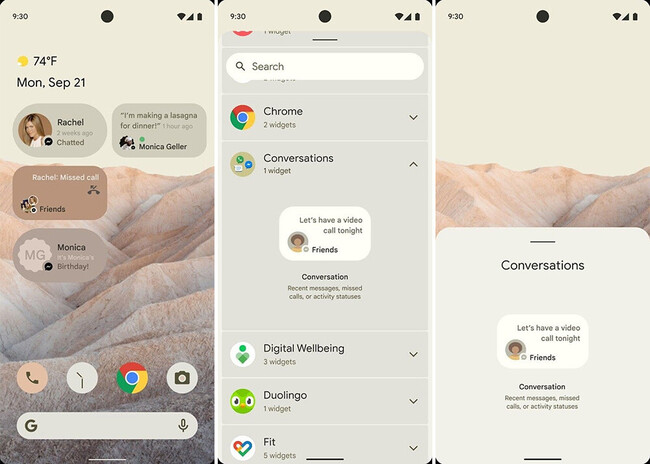 Other details of the interface that could change are the Always On screen, with new transitions between AOD mode and lock screen. Of course, at the moment it is difficult to discern between which of these changes will be available to everyone and which are exclusive to the Pixel Experience, the Google layer.
It would not be the only change that would affect the lock screen, since it is also possible that the device controls are accessible from it, in addition to new styles for the clock widget on the lock screen.
Another change, at least curious, is that Google would be preparing a system to show a home screen or splash screen in those apps that don't have it from factory and automatically generated.
Changes to Quick Settings
In the first -and only- leaked images of Android 12 we saw that Google would also be preparing changes in the Quick Settings. Apparently Google is toying with the idea of ​​showing quick settings in two columns, with each icon accompanied by its text on one of its sides.
Additionally, the Android 12 layout change may mean a thicker brightness adjustment bar, as well as a new quick setting under the name Reduce Brightness. It would be a new accessibility option to facilitate the handling of the mobile for those users with vision problems.
Smart screen rotation
A novelty that is less curious in which Google seems to be working is in the smart screen rotation, which would try to minimize the occasions in which the mobile rotates the orientation wrongly, or when it does not rotate it, but it should.
How the system will work is still unknown, although it is speculated that the mobile could use the front camera to detect the position of your face and, therefore, the correct rotation of the screen, automatically.
Game mode
According to XDA, Google is working on a service within Android under the name Game Manager. Its official description would be "a service to manage game functions", although it is not yet very clear what these will be. It is believed that it could be an API to be able manage certain mobile settings during game sessions, in a similar way to how the game mode present in several layers of Android works.
Changes in PiP mode
Another feature that could get a reset in Android 12 would be Picture-in-Picture mode, or the floating window to continue watching videos when exiting an app. If the rumors come true, in Android 12 it would be possible to resize a PiP window with one tap, as well as double tap to bring it back to its maximum size.
Apparently it would also be possible hide a floating window temporarily on one side of the screen, to keep it open and functional, but without obscuring the other applications you are using. Peeking from the edge, it would be possible to bring the floating window back to life from its hiding place to continue viewing later.
Animations in notification bubbles
With Android 12 a more polished version of the notification bubbles would also arrive, officially present for a couple of versions, although not really functional until Android 11. We would have new animations in the bubbles, as well as smoother transitions between the different states through which these bubbles pass.
App Pairs
Finally, the bells continue to ring for App Pairs, one of the first leaks of Android 12. Although we had some doubts about what exactly it would consist of, apparently it will be something similar to what is present in some layers of customization: the possibility of open two apps at the same time in split view, through a direct access.
Via | XDA