With Android 12 getting closer and closer, and with more and more features uncovered that are currently in development, the mobile world continues to receive device updates to the previous version. Or what is the same, to the current one, to Android 11 that debuted last 2020 in Google's mobile operating system ecosystem.
The next to join this unstoppable wave of updates to Android 11 It is an LG phone that reached the market at the end of April 2020, then landing with Android 10. We are talking about the LG Velvet that now makes the leap that places it in the latest available version of the operating system, and it does so in its stable version.
Android 11 with LG UX 10 starting from South Korea
The update also comes accompanied by the Android security patch for the month of January 2021, so the phone is completely up to date once we have downloaded and installed the past. We talk about an update with weighing 2.3GB, quite voluminous, so we recommend undertaking it through a WiFi connection and thus not wearing out our data rate if it is not unlimited.
Along with Android 11, the LG Velvet also receives version 10 of its proprietary layer, LG UX 10, which comes with the Always-on display mode in addition to other aesthetic improvements such as icons, wallpapers and an improved dark mode. LG UX 10 also places an emphasis on security and privacy, offering new expanded options in this regard.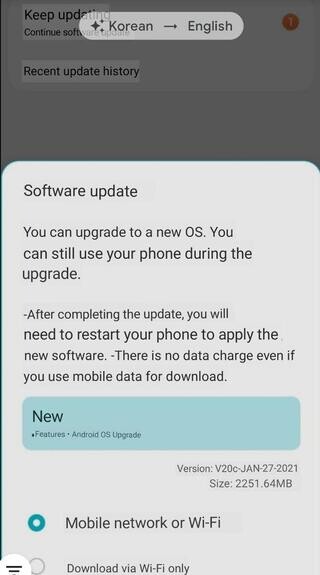 As usually happens in this type of updates, the arrival of Android 11 to the LG Velvet will be produced in a staggered manner so it may take some time to be available in all territories. At the moment, the deployment has started in South Korea, the house of the brand, and will extend to every corner of the planet where the device has been officially marketed.
Via | Reddit