No more writing word by word, use these apps to transcribe any audio to text. We recommend the best ones for Android.
Transcribing a text can be quite a heavy task, because you have to go stopping the audio every so often to write by hand the words you've heard. Sometimes you even have to go back, listen, go back and listen again until you get the message right.
Fortunately, in modern life you no longer have to spend hours glued to an audio to convert it to text, you can rely on the use of tools that do it for you automatically. We refer to audio transcription websites and apps that convert it into text in a matter of seconds.
If you usually spend a lot of time transcribing, we recommend the best websites and apps to transcribe from audio to text quickly and easily.
The best applications to write texts on Android phones and tablets
Top best websites and apps to transcribe from audio to text
On the web we can find a multitude of tools dedicated to the transcription of audio to text. In this list we will recommend the use of several of them, both websites and apps, as well as explain their most interesting functions and how you can use them.
Google instant transcription
Otter
Gboard
Speechnotes
Voice to text
Voice Notebook
TalkTyper
Dictation
Speechlogger
SpeechTexter
Google instant transcription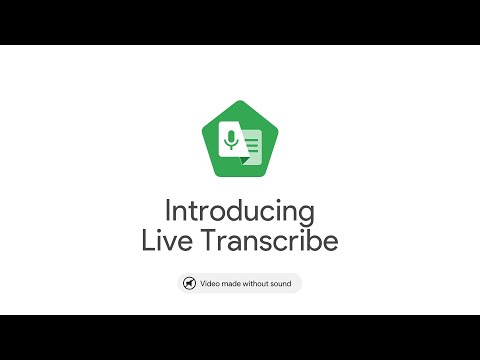 One of the most useful tools for transcribing from audio to text is Google Instant Transcription, which offers transcripts of your conversations in real time using Google's automatic speech recognition technology.
As soon as you open the app, it starts listening to detect, identify and transcribe all the words instantly. You can choose from 80 different languages ​​and also save transcripts for later access.
It is also important to note that this accessibility tool, developed for people who are deaf or hard of hearing, can hear and identify sounds like doorbells, smoke detectors, or a baby's cry to notify the user of what is happening at home. To better capture the sound, external microphones can be connected.
Otter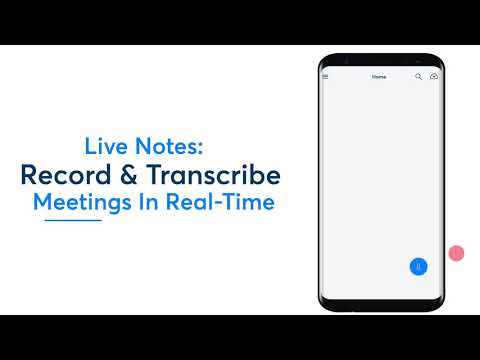 Another popular audio-to-text transcription service is Otter, which has both a version for Android as for PC. To the transcribe conversations in real time, Otter allows you to focus on what is happening without having to take notes by hand. You can use it for your meetings, conferences, interviews or any conversation where you need immediate transcription.
Once the text is saved, you can edit it, highlight some terms or phrases, share the notes with other users and invite them to edit, organize transcripts in different folders, and back up data to the cloud to keep your information safe.
Gboard
Among the many functions of Gboard, the Google keyboard, voice dictation appears, which is used to dictate the text you want to write. In this way, thanks to Google's automatic voice recognition, this keyboard also serves to make audio-to-text transcripts.
Best Android keyboards you can install
To use this function, just open the Android keyboard, click on the microphone icon in the upper right corner and dictate the words you want to convert to text. The text will automatically start to appear on the screen. You can copy and paste it in other applications without problems, or save it in the notes app for later use.
Speechnotes
Speechnotes is a free application that can be used to transcribe from audio to text without the need for registration. Open the app, click on the microphone and start dictating for the app to do its job. For the subject of scoring, you can use voice commands. Also, Speechnotes will continue to work even if you make long stops when talking.
Speechnotes also like the auto save of any changes to the text and the possibility of share transcripts with other users through other applications. If you subscribe to its paid version, you can even customize the interface of the app and the actions of the keys.
Voice to text
Free and with a very simple style, Voice to Text is positioned as another good application to transcribe from audio to text. Use continuous and unlimited speech recognition to identify the words you hear and write them for you. You can use this app to create long notes, dictations, essays or even to make your shopping list.
Voice to text also has functions such as text editing, language change, personalized keyboard and file sharing through other applications on your mobile.
Voice Notebook
In the Google Play Store you can also download Voice Notebook for free, an app that recognizes your voice, identifies the words you speak and converts them to text. You can use this application offline and online, although the latter is more recommended for improving voice recognition.
Notes taken by Voice Notebook can be saved on your phone or sent directly to your cloud storage platform. In addition, this app has a premium version with which you can remove ads, access the "Always on screen" mode to dictate non-stop and use the word counter, among other functions.
TalkTyper
We went to the transcription websites to tell you about TalkTyper, a free dictation website that convert your voice to text automatically. Click on the microphone in the upper right corner, accept the permissions for it to access the microphone of your device, and speak for the tool to do its job.
When you finish, you can edit the text if necessary to fix possible errors in the transcription. By the way, you can also dictate the basic punctuation to TalkTyper so you don't have to enter it by hand.
Dictation
One of the most complete websites to transcribe from text to audio is Dictation, which you can use in any browser for free. Click on the "Start" button, accept access to the microphone of your device and start speaking to see how your words are converted into text.
In addition to choosing from a multitude of languages, with Dictation you can also copy the text, save it, post the note directly or turn it into a tweet. With the text editing options, located in the upper bar, you can make the text bold, italic or underlined, align it to the left and modify its color, among other options.
Speechlogger
If you want to save time when making a transcription, you can use the help of Speechlogger, a website of speech recognition and instant transcription. Click on the microphone and start dictating to get the text you need, with the possibility of add score automatically, with voice commands or with the shortcuts that appear on the screen.
When using the text, you can upload it directly to Google Drive, export it in .txt or Word Document (.doc) format, save it to local disk or pass it to Google Translate. You can also convert it to a .srt subtitle file.
SpeechTexter
The last website we want to recommend you is SpeechTexter, which has extensive functions to edit the text and word counter. Before starting, select your language from the bar in the upper right corner. Then, click on "Start" and speak for SpeechTexter to convert your dictation into text.
When you're done, you'll have the ability to print the text or save it in .txt or .doc formats. You can also use automatic saving and voice commands for scoring.
Related topics: Apps, Android Tool Apps, Free Apps