On Android we currently have more than three million applications, according to AppBrain. A good part of them are keyboard apps, which allow us to enter text in an alternative way to that proposed by the manufacturer of our Android phone.
Therefore, it is necessary to know what are the best keyboards for Android, since it is necessary to do a good filtering to find a good one, which has both a good response time when writing, as well as interesting functions that provide added value.
Swiftkey
Swifkey is one of the "fathers" when it comes to keyboards. It is a keyboard that has greatly improved its interface over the years, and that now adapts perfectly to Google's Material Design lines.

In addition to having this striking design, customizable with dozens and dozens of themes, its predictive capacity is quite successful, being one of the few keyboards that does not need weeks of learning to know the exact word we want to put.
Finally, note that the application allows us to know how many keystrokes it has saved us, words predicted, completed, written using gestures and so on, so that we can quantify its effectiveness.
SwiftKey keyboard
Minuum
This keyboard is based on provide a somewhat different interface to its competitors. With larger and quite customizable keys. This size adjustment is precisely one of its strengths. Similarly, it has gestural writing, themes, and we can even adjust the sound it makes when we write.
It is a different alternative, for all those who do not want a conventional keyboard. As a last detail, comment that it has experimental settings, to further customize it with functions such as double space functions, auto-capitalization, the way to predict words or the sensitivity of the keystrokes
Minuum Keyboard Free + Emoji
Fleksy
Fleksy is one of the most popular keyboards on Google Play, both for its great interface and for how well it works. Highlight here how smooth its animations are, how careful its themes are, and its good predictive capacity.
Similarly, note that this keyboard has some extensions, which allow us to add small modules with various functionalities, such as rows of keys, animations, shortcuts to applications and others.
Fleksy: quick keyboard + stickers, GIF and emojis
Chrooma Keyboard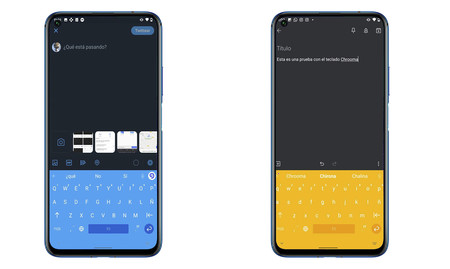 Chrooma Keyboard is a keyboard that has a particularity that makes it unique. Its color palette changes depending on the application we are in. In other words, if you open WhatsApp, the keyboard will be green and, if you use Twitter, it will change to blue tones.
It is a very interesting proposal that adapts to the application in use, without sacrificing good animations, a good prediction system and a material interface. Similarly, it does not renounce multilanguage support or gestural writing.
Chrooma - Chameleon & RGB Keyboard
Gboard
The Google Keyboard, known as Gboard, is one of the most used in the world (I admit that it is the one I use on all my mobiles). Its main assets are minimalism in design and, above all, predictive ability. For better or for worse, few companies know us better than Google (if we have provided our data, which means that the keyboard knows at all times what we want to type.
Similarly, at the level of customization, Gboard does not limp, allowing choose from a more than wide variety of topics, in addition to being able to choose our own images to create custom themes.
Gboard - the Google keyboard
Ginger
Ginger isn't such a popular keyboard, but it has some pretty cool points. At the topic level, it is quite complete. In this case, we move away from the flat Google interface, to resort to somewhat more ornate themes. Personally, we prefer flatter themes, but to give different options, it doesn't fit.
In the same way, we can adjust the transparency, color and background of the keys, so we can end up creating a 100% personalized keyboard for us, saving the name of the theme. The prediction system is more than correct and we have several shortcuts that will make life easier, such as the Google calendar and even some games included within the keyboard (puzzle, snake, etc.)
Ginger Emoji & Translator Keyboard