Two mid-range mobiles with a very similar design, but with totally different characteristics, which one is the best? Discover the main differences between the Galaxy A51 and the OPPO A72.
The wide variety of mobiles on the market and specifically the best mid-range mobiles means that you have dozens of options to choose from, whatever your budget. This comparison focuses on the increasingly competitive mid-range, we analyze two mobiles that have great features to satisfy your needs and tastes.
These two mid-range mobiles we are talking about the Samsung Galaxy A51 and OPPO A72, which may seem very similar physically since they have a good and wide screen, small frames, very resistant and have a total of 4 cameras. In this comparison we will show you the main advantages of each of the mobiles and our suggestion on which one you should choose.
Design and display
A sleek, modern and fun design is found in Samsung's mid-range Super AMOLED screen. The Galaxy A51 has a 6.5-inch Super AMOLED displayFor its part, the OPPO A72 also has a stylish and colorful design, it has a 6.5 inch IPS LCD screen, both models with millimeter-thin black bezels that give you a borderless screen feel. One thing you may notice is that the corners of the OPPO A72 are slightly more rounded than those of the Galaxy A51.
Something that stands out on the screens of the two phones are the small points of the front cameras, the Galaxy A51 has it centered and on the OPPO A72 you can find it in the upper left corner. Regarding the back, we have some differences, since the Samsung sample is manufactured in plastic with litmus effect, available in white, blue, black and pink. In addition, it has a flat surface and a very glass-like touch sensation. The OPPO A72 has a slightly curved cover on plastic with two-color gradient effect, is available in aurora purple and twilight black.
In terms of size and comfort they are relatively very similar, since the Galaxy A51 is only 2 millimeters less in width and 3.5 millimeters in height than the OPPO A72. Where you can find a more significant difference is in weight with 192 grams the OPPO copy and with only 170 grams Samsung copy.
Cameras
Both mobiles have 4 rear cameras that give you great versatility to generate photographic compositions, they have a 48 MP main cameraThe Galaxy A51 has a 12 MP wide angle, while the OPPO A72 has a lower 8 MP wide angle. In addition, the two models include a depth sensor and a macro, in the front camera you can also notice a big difference with the 33 MP from the A51, in front of 16 MP from the A72.
We can highlight major differences in terms of video and manual focus, since the Galaxy A51 has an excellent video recording with the main camera, with which you will achieve focused and defined videos from beginning to end. It also allows you manually control the focus you want in your videos and photos, even has an optical image stabilizer. The OPPO A72 in terms of video, will allow you to create acceptable pieces but nothing surprising. This model does not allow you to manually control the focus of your photographic compositions, or video.
Battery and performance
The battery of both phones is good and will not leave us in the middle of the day, which means that the autonomy of your mobile is also good. However we can find a significant difference, since the OPPO A72 takes the lead in this section with its 5000 mAh and 18 W fast charging, in front of 4000 mAh with 15 W fast charge of the Samsung Galaxy A51.
The Samsung Galaxy A51, on average gives you 5 hours of screen with 24 total hours of autonomy, while the OPPO A72 doubles these figures, since it is very likely that you have two days of autonomy and up to 10 hours of screen. This makes a big difference between the two phones, even this positions the OPPO A72 in terms of battery and performance, ahead of many of the mid-range models that are offered on the market. This mobile can be fully charged in almost two hours and compared to the competitors, its energy consumption is low.
Processor and memory
The Samsung sample has a Samsung Exynos 9611 processor, 4 GB RAM and 128 GB of internal storage, the OPPO A72 has Qualcomm Snapdragon 665 processor, 4 GB RAM and 128 GB of internal UFS storage.
With the aforementioned characteristics, we can affirm that the two mobiles are quite similar in these aspects and that they have enough for optimal operation. Nevertheless, Galaxy A51 can be expanded up to 512GB thanks to its external memory card slot, which is one of the good options to expand the storage memory of your Android.
Both copies have the Android 10 operating system, the A51 has One UI 2.0 that allows you to customize your mobile experience and the OPPO A72 comes with ColorOS 7.1 as a customization layer, you loved are good but completely different in terms of the experience they provide to the user.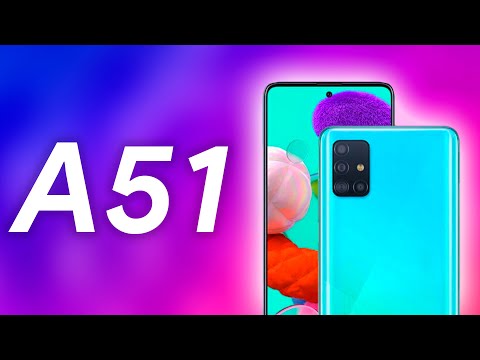 Connectivity
The Samsung Galaxy A51 mobile has a USB C charging port, traditional headphone jack, NFC technology, Bluetooth 5.0 and dual-band Wi-Fi, elements that the OPPO A72 also has, the only important difference with these elements, would be that the OPPO A71 has a Bluetooth 5.0 low power.
Further, the OPPO A72 incorporates a fingerprint reader on the side, which makes it convenient to unlock and stereo audio. These are some details that the Galaxy A51 lacks, but in front of that it offers facial recognition, which is very fast and works perfectly without turning on the screen. Also, it has a fingerprint reader on the screen, for those who like the most traditional, without so much technology and finally add that also includes FM radio.
Other features
Both mobiles count with fingerprint readers located at different points, the Galaxy A51 has it on the screen and the OPPO A72 has it on the side above the power button, which is a very comfortable position for the user. Their screens are resistant although, we could say that a little more OPPO A72 sapphire glass display, which is stronger and more resistant to scratches, bumps and wear than reinforced glasses such as Corning Gorilla Glass.
An important difference that we can highlight in this section is that the Galaxy A51 has a face detector that allows you to locate the faces and have a sharper photography As a final result, you also have an excellent camera thanks to the white balance adjustment function and exposure compensation, these are some things we could wish for on the OPPO A72.
Another difference is that the Galaxy A51 is equipped with several important sensors for the mobile such as: accelerometer, fingerprint sensor, gyroscope, geomagnetic, hall, luminosity and virtual proximity sensing.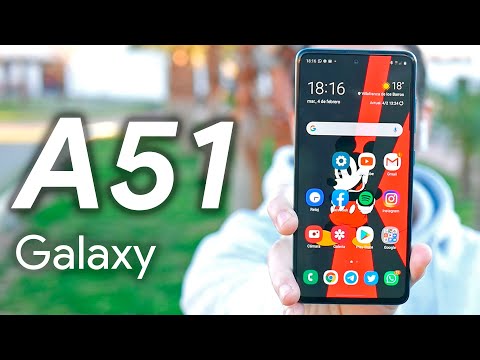 Samsung Galaxy A51 vs OPPO A72, which one should you choose?
In summary, the Samsung Galaxy A51 gives you the freedom to choose between a wider range of colors, It is a mobile that stands out within the mid-range because it manages to replicate the finishes of the best high-end mobiles with less expensive materials, thus achieving a showy and elegant model what can you buy for € 279 or a little more.
This mobile is the perfect size to hold it comfortably with one hand, plus It is very light, it has great quality in its AMOLED panel, optimal cameras with a good number of options in both photography and video. And finally, if what you want is a mobile phone for day to day, you need good battery performance, a good screen and a stylish design, without a doubt. the Samsung Galaxy A51 is a good choice for you.
As for the OPPO A72, it has an improved panel compared to the previous OPPO and a efficient battery with huge capacity with 5000 mAh, which ensures autonomy above the average and is without a doubt the star quality of this mobile. A good option when looking a resistant mobile that can withstand your daily days to the maximum, you can also currently find it with some offers for less than € 249.