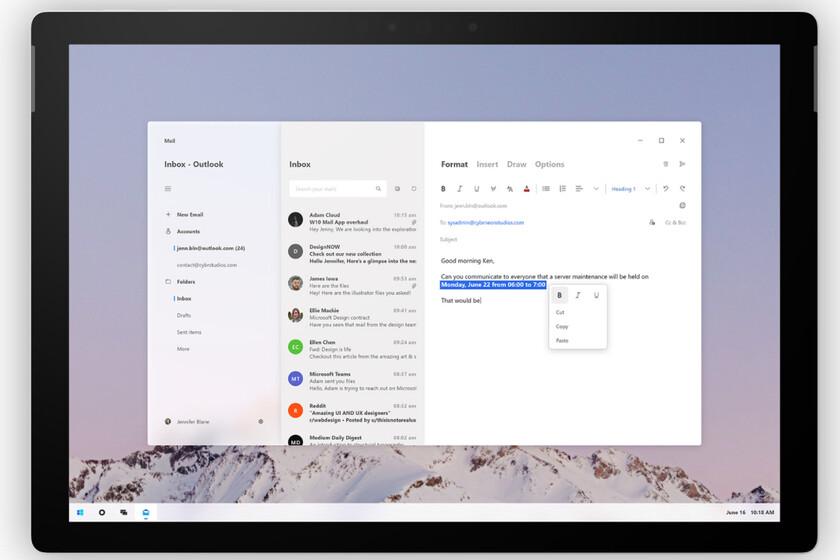 The Windows 10 apps They have much, much room for improvement, and it seems clear that Microsoft is planning to work on it. In a job posting published by the company recently, they say they are looking for developers to create new experiences with their applications.
They talk about leading a new team to put together a complete portfolio of pre-installed native applications that demonstrate the best of the Windows platform and Fluent Design. Basically: new and better apps for Windows 10 and focused on the design language that keeps trying to unify the system interface.
Windows 10 Basic App Pack is still a bit underwhelming
We are not talking about Office office applications, which are on another level, nor are we talking about cross-platform Microsoft apps like To Do, but rather the group of apps that are pre-installed on the system.
Those apps like Mail, Weather, Calendar, Groove Music, Movies and TV, etc. They've certainly gotten better over the years, especially when compared to their first versions in the days of Windows 8 or even the ones that came with the first version of Windows 10 over 5 years ago, but they still don't really stand out. .
You don't have to ask far to know that most users don't use Mail to read their emails, or that they prefer VLC to watch their videos, or that they use any other music player other than the pre-installed one. Windows 10 has apps for almost everything, but almost all of them are little more than acceptable.
Microsoft To Do or the app Your Phone itself are good examples of how well it can be done, while Mail or Calendar are a good example of when it seems that the minimum is done.
In general, the design of all these apps is also still inconsistent, and now that we know that with the next big system update we will see big changes in that aspect and that Microsoft plans a whole "visual and radical rejuvenation" of Windows 10, it makes sense that are planning to renew pre-installed apps.
Cover image | CYBRNEON concept