Until just a few days ago, Microsoft's Edge extension store housed probable free unauthorized copies of several of the best known video games such as Mario Kart 64, Super Mario Bros, Sonic the Hedgehog 2, Pac-Man, Tetris, Cut The Rope, Fruit Ninja, Temple Run, and even Minecraft, Microsoft's success in this sector.
The creators that appeared in the titles of those contents were neither Microsoft, nor Nintendo, nor any other recognized game developer. It is that it is believed that they may be unauthorized copies.
After going public, the extensions were removed
The Verge published the scoop on Saturday and a few hours later the vast majority of the games had been removed from the extension store Edge browser. According to the same medium, the only one left is what appears to be a copy of the Google Chrome dinosaur game.
Jordan chase he said on his Twitter than Mario Kart 64 extension (this post is deleted now) was downloading a game ROM. The Tetris extension also appeared to be a clone of the famous game, although it did not download a ROM, according to Chase.
In ResetEra, the user KoolAid, published a screenshot of what looks like the official Twitter of the Microsoft Edge Dev profile that announces that it announces to "Pac-Man, Tetris and Mario Kart lovers" that they knew that Microsoft Edge has these and other vintage games in its catalog of games in the extensions.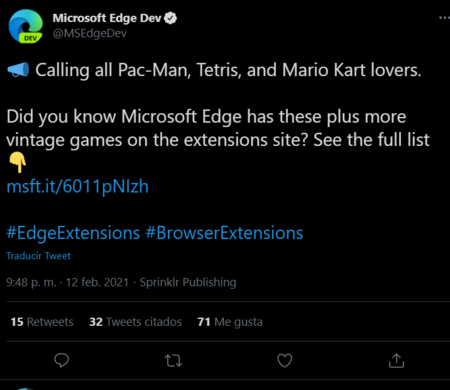 Some of the games The Verge managed to find when it discovered this matter, they had reviews dating back to October, indicating that they had gone unnoticed in the Microsoft catalog for quite some time. The Windows firm has not made any official statement on the matter.