Get link

Facebook

Twitter

Pinterest

Email

Other Apps
Rolling mobiles confirm their candidacy for the great attraction of the year, and we can already see the new OPPO X 2021 live and direct ... Are you going to miss it?
Written by Damián García in Mobile
Cell phones are boring. The truth is the industry has evolved practically nothing in recent years, and hence the red lines that divided the ranges premium of mid / high cut phones have come closer than ever, forcing most manufacturers to seek incentives and explore new concepts like folding smartphones or, now the most modern, roll-up mobiles.
And it is that yes friends, it seems that the big trend of 2021 will be these roller concepts in which TCL from China already work, also LG with its 'Rollable' that we could see at CES 2021, and even an OPPO more daring than ever capable of making the reality OPPO X 2021 Before anyone else, getting ahead of even a Samsung that loves to come first in all these races.
At this point, we already know that many of the noblest players in the mobile sector are preparing a "roll-up" type smartphone, with manual or automatic mechanisms that allow to hide part of the panel inside the body of the smartphone, offering that hybrid experience between tablet and phone without the compromises of the blissful fold That tarnishes the experience of the current Mate Xs or Galaxy Z Fold2.
In any case, and although there are many competitors, the way seems to clear up for them to be either LG or OPPO who launch this new category of mobile devices, because the South Koreans already showed us on video Rollable, the first that we officially saw, and now the Chinese manufacturer becomes the first to make such a terminal a reality, the OPPO X 2021 that is already in the hands of some of the most famous reviewers to show us all its secrets ... Do you want to know it in depth? Well, here are all the details!
OPPO presents the OPPO X 2021, the world's first mobile with an expandable screen
This will be the new OPPO X 2021, the first mobile with a roll-up screen that we can "touch"
Surely the development from scratch of the OPPO X 2021 has not been as fast as we have lived it, but although Dongguan-based manufacturer claimed to have no release dates of this model at least in the short term, the truth is that its transition from concept to prototype has been more than rushed, with only a couple of months from its official presentation until the first pre-series models they have reached the hands of experts and analysts.
As we expected, it is about a smartphone much thicker than what we are used to to see in traditional mobiles -something surely not so striking compared to a closed Galaxy Z Fold-, which has an automatic mechanism that rolls or unrolls the panel according to user needs, going from 6.7 inches to a maximum of 7.4 inches in a more square format and consistent with the experience of tablets.
In any case, the most surprising thing is to see how the device folds or unfolds, and how the elements settle, modifying their behavior and their arrangement as the screen grows or decreases, so we are going to leave you directly with the first one review that has been published: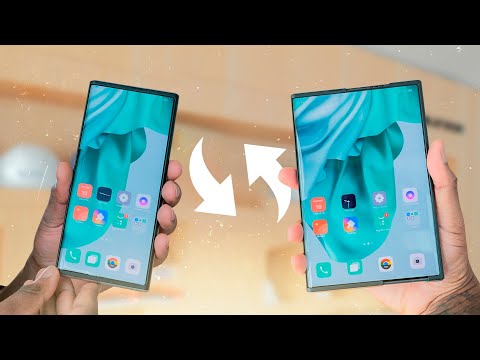 We already have two videos published with first impressions and a complete 'hands-on' of OPPO X 2021, the first from the French youtuber Brandon Le Proktor and another from the German channel allroundpc ... Surely even more will appear soon!
In the video, as you have seen, a French youtuber shows us for the first time a fully functional pre-series model of the new OPPO X 2021, teaching us all its secrets and explaining how these rolling mobiles work, or at least how the model that is cooking in OPPO's ovens behaves in this case.
The video has neither cheat nor cardboard, so the device can be seen in detail, from all angles and putting into operation the curious automatic mechanism that is activated by making a double click on the side button.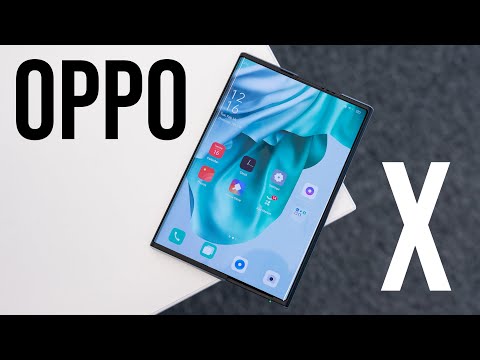 Of course, the interface developed by OPPO adapts perfectly to both screen sizes, giving continuity to what we are doing at all times and without noticing serious problems even with unfinished software, which will surely polish details and optimize its fluency between now and a launch, no news for now of an added value that will be key to take advantage of the resulting large screen size.
No details about the device's internal hardware have been revealed, surely due to OPPO's own embargo, so for now we can only say that obviously the panel is a flexible OLED mounted around a circular mechanism capable of hiding a part without bending it, without knowing the origin or the resolution or the refresh rate.
And as is obvious, we also don't know when it will hit the market (we don't even know if it will) nor at what price, which is not expected cheap although it is probably below the 2,009 euros that the Galaxy Z Fold2 cost at its launch ... It will take patience!
When can you buy your first roll-up mobile
Related topics: Phones, Chinese Phones, OPPO
Get link

Facebook

Twitter

Pinterest

Email

Other Apps